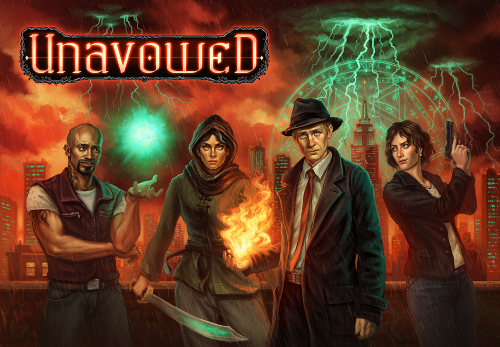 Unavowed







Created, Designed, and Published by Wadjet Eye Games
Written by Dave Gilbert
Starring (from left to right): Logan Cunningham, Sandra Espinoza, Frank Todaro, Arielle Siegel, SungWon Cho (not pictured), and more
Art by Ben Chandler and Ivan Ulyanov
Music by Thomas Regin
Rating: Mature adolescents and above (adult language, gun violence, supernatural elements)
Official Blurb: For one year, crime-torn New York City has been at the mercy of someone hell-bent on destruction and chaos. Waking up on a stormy rooftop, you learn that this someone was you. At least, the heinous acts were carried out by your body, possessed by an angry demon that's now loose in the city that never sleeps. The only force that can stop it is the Unavowed, a centuries old supernatural crime-fighting troupe that takes down evil in the shadows—and you are their newest member.
Pros: Voice acting is top-notch and all of the diverse characters have depth and are more than just stereotypes.
Cons: Some of the puzzles require a pixel hunt, and that can really take you out of the story.
---