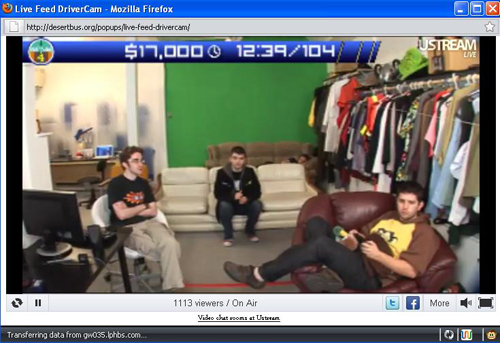 As a liberal-minded geek, I try and donate to charity whenever I can because I believe that helping other people and being altruistic is a pretty cool thing. Also as a kid, I spent almost an entire week strapped to a bed at the Childrens Hospital of Orange County in California after a kidney surgery.
As a result, every year since Jerry Holkins and Mike Krahulik from Penny Arcade started their annual toy drive called Child's Play, I've tried to buy a toy from the list that I know will be used to help a kid just like the one I was. Whole groups of people have created satellite organizations to help raise more money for the charity, and my favorite out of all of them is Desert Bus.
Two years have passed since I originally blogged about their efforts, and I thought that this time, I could recap a little bit about the typical things you could see the Desert Bus Crew doing if you happen to tune into the live driver cam at 4:00 am local time in Victoria, B.C. for about an hour:
0400 – The crew is dancing along to an instrumental section of a song from the Scott Pilgrim Vs. the World soundtrack, to which they've been challenged to sing.
0408 – Jeremy "Jer" Petter narrates as everyone in the room comes up with their own very personalized types of dinosaur and walks across the room.
0411 – The chat room has been challenged to take the total from $15,839 to $16,000 in the next 10 minutes. If that happens, they will sing a Barry White song.
0421 – Matt Wiggins sings "Soft Kitty" from "The Big Bang Theory" while stroking the head of James Turner, who is driving the bus. Also, since the total is now only $15,914, the chat challenge failed.
0427 – Alex Steacy makes an appearance while dressed from head to toe in orange rain gear and a Flavor Flav-style clock around his neck. I do not immediately recall why. Afterwards, the group sings "Little Lion Man" by Mumford and Sons.
0433 – The official total is now $16,010, which they've confirmed took too long to get to in order for them to sing a Barry White song. However, they are now singing "Polka Power" by Weird Al because someone paid $50 for them to do so. Someone who is only being identified in the accompanying chatroom as "Red Bandana Man" is the most energetic. Afterwards, he identifies himself as Andre, he's a member of the Loading Ready Run forums, and he decided to stop by and hang out.
0441 – Turner reminds everyone to send in drawings of him driving the bus with pants on his head for a challenge. Chat member lgladdy reminds the chat audience about the real-time graph he made which shows the donation totals.
0446 – Tally Heilke tortures Turner by hiding in their costume rack and pretending to be a monster in exchange for a donation. Afterward, in response to another $50 donation, the entire room chants "Hail C'thulu!" in a rising monotone crescendo, while reacting in terror as the Old One (played by Andre) rises. However, as the tentacled one rampages across the room, the controller gets unplugged from the Sega CD, resulting in a bus crash and the need to restart the game (and their point total) and start their run from Tucson to Las Vegas again. As a result, they update the overlay to read 1 point, 1 crash, and 6 Bothan spies who died to bring us this information.
0457 – Petter, Wiggins, and Turner re-enact the scene from Clerks 2 where Randall goes off on the Lord of the Rings trilogy.
As seen in the screen shot above, as of this writing $17,000 has been raised for Child's Play, which brings their four-year total to $233,677. Judging from the aforementioned graph, the group is well on their way to being responsible for raising a quarter of a million dollars during year's event.
I can't wait until they do.