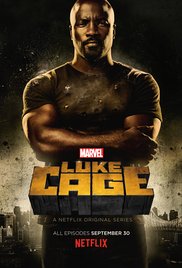 Created by Cheo Hodari Coker
Directed by Paul McGuigan (Eps. 1 & 2), Guillermo Navarro (Ep. 3)
Written by Cheo Hodari Coker (Eps. 1 & 2), Matt Owens (Ep. 3)
Starring Mike Colter, Simone Missick, Mahershala Ali, Alfre Woodard
Also Starring and/or Featuring Theo Rossi, Frank Whaley, Jade Wu, Frankie Faison
If there's something I know about myself it's that if I am really hooked into a show, I am not going to let anything silly like self-imposed deadlines and restraints keep me from watching as much or as little of it as I like. This explains why I watched all of the excellent and riveting first season of Jessica Jones series almost straight through and then took forever to finish the second season of Daredevil, finally throwing in the towel 26 minutes into the last episode because the story and all the characters annoyed me so much.
My friend Kara Dennison likes to give everything she watches three episodes to capture her eye. I decided to do the same with the latest entry in the Marvel Cinematic Universe, Marvel's Luke Cage; judging from my reaction to the last bit of "Who's Going to Take the Weight?", I think I'm going to have to plow right through the rest of the episodes today and tomorrow. Note: Oh yes, there will be spoilers for these first three episodes. Continue reading "Trisha's Take: Marvel's Luke Cage" →