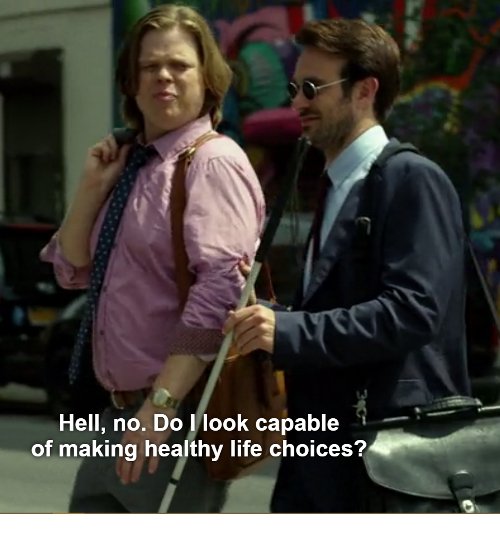 As every Marvel Cinematic Universe fan knows, the second season of Daredevil hit Netflix on Friday, driving many superhero fans indoors over the weekend. I really enjoyed watching the first season at a clip of one episode a day, so rather than binge-watching like many of my friends have decided to do, I'm going to go through these episodes one at a time and let you know my thoughts. And yes, there will definitely be spoilers, but there will also be some caveats as well.
Given that I still haven't seen "Marvel's Jessica Jones," Season 3 of "Marvel's Agents of S.H.I.E.L.D" or either season of "Marvel's Agent Carter," I'd appreciate it if any responses to rhetorical questions I have that can be answered by those shows be limited to a simple, "That's answered elsewhere." I am caught up on all the Marvel movies, but I haven't read any of the corresponding comic books; same deal applies.
Enough with the blather, on with the show!
I appreciate the little recap before the episode started because it does hit all the high points from the season as well as reminding me of the awesome corridor fight from "Cut Man" which I am likely to go back and watch again. Also, I'm also very glad to know what "moodak" means in Russian.
I am not in love with the vocal song at the end of the recap, however. I hope it doesn't stick around.
I like a good foot chase and establishing action scene as much as the next gal, but why didn't these mooks have a getaway driver?
"That's the tragedy of you being blind; you haven't seen me dance." I really hope that they pick this up somewhere in the season. Is there a TV Tropes listing for Chekov's Artistic Ability yet?
Karen's pause after the bar fight client calls her a badass? Nice bit of subtle acting there.
I'm so very glad that the curse word "shite" is finding its way into American vernacular through this scene. It definitely establishes the scene well. I'm wondering, however, if the plates of ham, potatoes, and cabbages I saw on the table were perhaps just a bit too stereotypical. Also, wasn't it the Italian mafia who ran Hell's Kitchen back in what Nesbitt's day was, leading up to the rise of Wilson Fisk?
Karen is such a badass right now, spinning up that cover story like fine yarn. Evidently, whatever amount of time passed between the "Daredevil" episode and now was enough for her to come to grips with what she did to save herself in "The Path of the Righteous."
And while we're on the subject, I am metaphorically pouring one out for Toby Leonard Moore's James Wesley. I hope there's a new character this season who has a similar kind of rational evil.
Okay, so I'm not sure yet what Foggy's got planned going into the Dogs of Hell's club, but I love how this scene showcases that Foggy is just as much of a badass as Matt Murdock because he's willing to go into dangerous situations without super powers because he knows it's the right thing to do and he wants to protect someone he loves.
Maybe I have my critic's brain screwed in a bit too tightly, but the dude who crossed the alley just before Karen and "Steve" burst out of the fire escape stairwell? The fact that he didn't react to either the alarm or them bolting across the street is very shoddy extra directing.
So thanks to media, advertising, and the episode recaps on Netflix being what they are, I know that the mystery man who's shooting up all the bad guys is none other than Frank Castle, aka the Punisher. And yet, this episode did an absolutely fabulous job of keeping it a bit of a mystery throughout this first episode. Also, I know that a confrontation with Elektra is in the future as well; I'm hoping that they treat that character's arrival with as much delicacy.