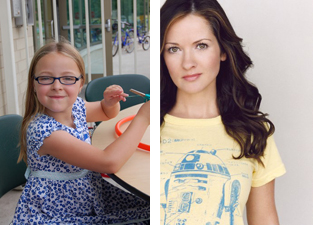 No matter what kind of geek you are, there's something that all of us share in common which makes us different from aficionados, hobbyists, and dabblers.
When we were younger, we got teased and bullied. A lot.
In his book The Happiest Days of Our Lives, writer/actor Wil Wheaton wrote extensively of how being a little smarter and a little more shy than other kids in his elementary school classes lead to his taking one in the face during an "innocent" game of dodgeball. The fact that Wheaton went on to star as an actor in such geek-centric TV series like "Star Trek: The Next Generation" and "Eureka" doesn't completely obscure the fact that he still feels and remembers that pain from over 25 years ago.
Katie, a first-grader in the metro Chicago area, had her own "dodgeball moment" recently. See, Katie really loves the Star Wars franchise. In fact, she loves it so much that according to her mother Carrie Goldman, a blogger at ChicagoNow.com, she asked for a Star Wars water bottle to go with her backpack when they went shopping for school supplies at the beginning of this school year. However, four days ago, Katie changed her mind about her special find:
Katie loves Star Wars, and she was very excited about her new items. For the first few months of school, she proudly filled her water bottle herself and helped me pack her lunch each morning.

But a week ago, as we were packing her lunch, Katie said, "My Star Wars water bottle is too small. It doesn't hold enough water. Can I take a different one?" She searched through the cupboard until she found a pink water bottle and said, "I'll bring this."

I was perplexed. "Katie, that water bottle is no bigger than your Star Wars one. I think it is actually smaller."

"It's fine, I'll just take it," she insisted.

I kept pushing the issue, because it didn't make sense to me. Suddenly, Katie burst into tears.

She wailed, "The first grade boys are teasing me at lunch because I have a Star Wars water bottle. They say it's only for boys. Every day they make fun of me for drinking out of it. I want them to stop, so I'll just bring a pink water bottle."
And that's how it begins.
The feeling that you're different, and that if you want to be liked by the other kids in your class, you have to step in line with what they think you should do and who they think you should be. It's the kind of feeling which, if left unchecked or unacknowledged, could cause a lot of damage to a growing kid's psyche.
When faced with this kind of bullying, Goldman did what any caring parent should do. She spoke to her daughter about how it was okay to be a little different, and encouraged her to be brave enough to continue bringing the water bottle to school. She then went a step further and asked her readers—and especially her female Star Wars-loving readers—to chime in to let Katie know that it was okay to be female and to like Star Wars
The response was overwhelming, and tons of female Star Wars fans braved the login requirements to write to Katie about how much they like the franchise and—more importantly, that she shouldn't be ashamed of liking it, too.
Just yesterday, it went viral, thanks to Twitter updates from folks like Alyssa Milano and Felicia Day. In the 30 minutes it took me to take the subway home from downtown Manhattan to my apartment in Brooklyn, the number of people who commented on the original story went from about 150 to 584 (and counting). Earlier in the day, Cake Wrecks and Epbot blogger Jen re-broadcast the story and invited those who didn't want to subscribe to leave comments in her blog post, and there are currently over 1,700 over there as well, up from the 600 or so I saw earlier.
My favorite response on the original post, though, comes from another "Katie" — Catherine Taber, the voice of Padme Amidala in the CG-animated "Star Wars: The Clone Wars":
I am an actress who has the great honor of being Padme Amidala on "Star Wars: the Clone Wars"! I just wanted to tell Katie that she is in VERY good company being a female Star Wars fan! I get to meet the coolest girls from all over the WORLD who love Star Wars — and they are the smartest, most creative, beautiful and nicest people you will ever meet!

Not to mention I am a big Star Wars fan myself and have quite a nice collection — including 2 water bottles that I proudly carry!

I am so sorry you had a bad experience with some of the boys at school. They are truthfully probably jealous of your cool water bottle, but there is no excuse for not being kind and it is not a good representation of a Star Wars fan!!

I know that Padme would tell you to be proud of who YOU are and know that you are not ALONE!
Please have your mom get in touch with me so I can send you something for YOUR Star Wars collection!

Much Love and Admiration — and THE FORCE is with you Katie!
Catherine, Padme
When I reached out to Goldman last night, she and her husband were still amazed by the overwhelming response from the Star Wars fans all over the world as well as from other people associated with the franchise.
"Katie has not yet reacted because she goes to bed at 7 pm, and we had not yet read the comment by Catherine! But when my husband and I found out, we were amazed," she wrote in an email. "We kept looking at each other and laughing and saying, 'Oh My God!' We were also contacted by Tom Kane, who voices Yoda, and Katie does not know about that yet either! He invited us to be his guests at a Clone Wars movie premiere in Chicago. Scott Zirkel, who is an artist for Star Wars sketch cards, drew Katie her own card tonight with a picture of her holding a light saber."
Goldman added, "Many people have offered to send Katie Star Wars toys. Since it is the holiday season, please suggest that they donate toys in her honor to local shelters and hospitals instead of sending them to us. The positive comments are gift enough."
Taber found out about Katie from the Epbot.com post, and immediately took action. "I felt I had to comment and try to reach out to the family," she wrote by email. "The story really touched me for a lot of reasons. I felt for Katie's mom and wanted to make sure she had support in teaching Katie it is okay to be a little different. And the thought of this lovely little Star Wars fan having the wind and the joy taken out of her sails, just made me mad! If I had lived in her area, I probably would have tried to show up and give her a hug—dressed as Padme no less."
Taber's responsible for having reached out to Kane and other "Clone Wars" cast and crew members, and she did it for a very important reason. "Maybe it's because I play one of the good guys," she said, "but to me Star Wars is about good conquering out over evil in the end, and the inherent power of good in general. The fact that so many people from all over, immediately came together to support Katie is proof of that power and just made me so happy."
Not a bad way to end Anti-Bullying Week, eh?