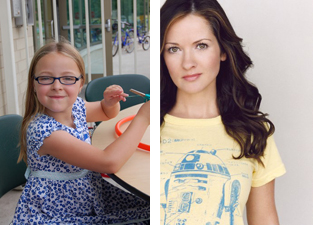 No matter what kind of geek you are, there's something that all of us share in common which makes us different from aficionados, hobbyists, and dabblers.
When we were younger, we got teased and bullied. A lot.
In his book The Happiest Days of Our Lives, writer/actor Wil Wheaton wrote extensively of how being a little smarter and a little more shy than other kids in his elementary school classes lead to his taking one in the face during an "innocent" game of dodgeball. The fact that Wheaton went on to star as an actor in such geek-centric TV series like "Star Trek: The Next Generation" and "Eureka" doesn't completely obscure the fact that he still feels and remembers that pain from over 25 years ago.
Katie, a first-grader in the metro Chicago area, had her own "dodgeball moment" recently. See, Katie really loves the Star Wars franchise. In fact, she loves it so much that according to her mother Carrie Goldman, a blogger at ChicagoNow.com, she asked for a Star Wars water bottle to go with her backpack when they went shopping for school supplies at the beginning of this school year. However, four days ago, Katie changed her mind about her special find: Continue reading "How Padme Amidala, Yoda, and the Internet are standing up to bullies for a Star Wars-loving mini-geekette" →