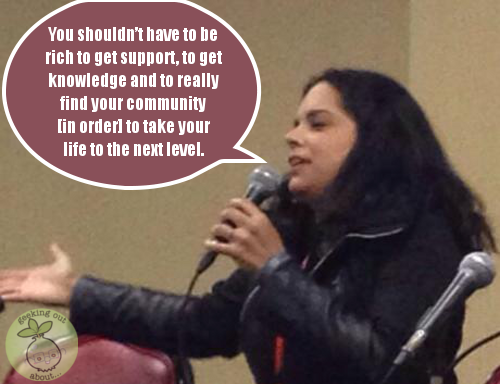 Outflanking the Competition
Being a convention which proclaims itself to be about creating content and sharing it on the Internet, Intervention does have its share of competition.
The same year Intervention debuted was also the same year that VidCon, a convention for online video creators, was started. It was also one year after the first Max Fun Con was held, and two years before XOXO Fest started raising funds for its debut on Kickstarter.
However, Hartstein feels that Intervention has more to offer "the common fan" than either VidCon or XOXO Fest. "I'm pretty sure that XOXO Fest costs, like $400 to attend," she said, "so that's a clear demographic difference because I believe that you shouldn't have to be rich to get support, to get knowledge, and to really find your community to take your life to the next level."
"We've been told by some of my CEO mentors and friends that [we] need to raise the price [or we] need to aim for people with more money like the other cons are doing and I'm like, 'That doesn't appeal to me. Those people have their stuff already,'" she said. "There's nothing else [for] people who make middle class or even lower class wages and those are the people that miss the most."
Because the Internet is such a fast-moving place when it comes to trends and what people are excited about creating, I asked both Hartstein and Dennison how they personally stay current, how that affects Intervention's programming, and why people should attend.
Dennison credits her grandfather Charlie Husson, a principal electronics troubleshooter on the NASA Viking missions, with her deep knowledge of computers and the Internet.
She said that in the 1980s, he told her that he wanted her to grow up being comfortable with computers and technology. "Adapting to new technologies has been part of my upbringing. It's what I learned to do along with reading, writing, and attempting to interact socially," Dennison said. "Being the social media person, I have to know how to use them beyond 'How to Make a Post on Facebook.' [But]," she added with a laugh, "I still haven't cracked Tumblr."
Hartstein acknowledged that keeping the Intervention programming current is a difficult task. "We have a limited budget until next year," she explained. "We look at what other people seem to like and we try to put as much of that in the con as possible. We try to see who wants to present [a panel, and] we try to pull those things out [and put it into the programming] because we have somebody wants to share something. [Hopefully, the attendees will] be empowered to get creative and share what they love the next year."
As for future Intervention expansions, Hartstein elaborated by email, "Next year, we'll be changing it a bit more and adding more industry and indie guests who are at the top of their profession and showing how their use of the Internet is furthering their careers. We are also seeing a real increase in interest in having a much more major film presence at the event, so that is likely to grow as well."
Another thing which Hartstein recently did was to ask what her guests wanted to do and how being a guest at the convention could help them in their personal career development.
"[This year at Intervention], we've brought on Terry Molloy, who was Davros in Doctor Who, to do voice acting workshops which is something we've never had before. I'm going to work again on trying to bring in a new segment," Hartstein said, adding that she was working with some of the other Doctor Who actors on other things behind the scenes as well.
"[The mission statement for] Intervention is why we got Tom Baker [for (Re)Generation Who]," she added. "[He] sent me a note about it. He loves that Intervention is a safe space for artists to elevate artists of all types. (Re)Gen's celebrity side is feeding Intervention. Eventually they're going to complement each other even more."
The Next Five Years?
During our entire conversation, Hartstein mentioned more than once that she had a "five-year plan" regarding Intervention and (Re)Generation Who, but she was pretty coy about exactly what that plan entailed.
"We've actually exceeded everything we thought we would," Hartstein said. "On the personal side [through my career advancement by running these shows], I was able to pay off my debt from the old days almost two years earlier than I thought I would. That was a big road block to helping me be able to have the money free to do really strategic investment in Onezumi Events [and to] really grow it. It looks like by 2017 it might be an actual company that can have employees—which I hope—because I really want to be able to give people the option to do that who are working full-time," she continued.
And as for what's going to happen in the next five years? "We're brainstorming some of that right now, but we're going to keep that part quiet. Although a lot of people have some pretty good ideas. A lot of people have wrong ideas, too!" she concluded, laughing.
---
If you're interested in attending any of the conventions run by Onezumi Hartstein, this year's Intervention is taking place from August 14 to 16 in Rockville, Maryland, while next year's (Re)Generation Who will take place from March 18 to 20, 2016 in Hunt Valley, Maryland.