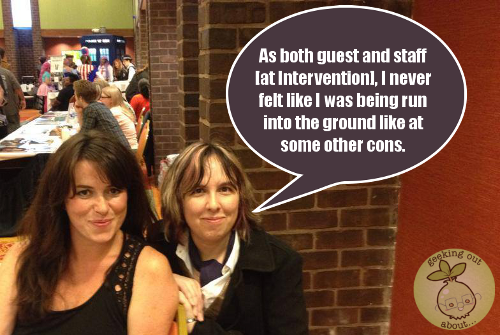 Who Do You Know?
Five years after Intervention began, Hartstein launched her second genre event. Called (Re)Generation Who, it's a Doctor Who convention for the mid-Atlantic states. One of the first people Hartstein called to be on staff was Dennison, who offered to become that convention's social media manager, and later performing the same work for Intervention. The decision to be on staff for both conventions was a natural choice for her.
Dennison explained, "Not only did I have a skill set to offer, but I got a lot in return. And I'm not just talking about getting to do cool stuff," she continued, alluding to the interview she moderated with Tom Baker (the Fourth Doctor) via Skype.
Hartstein's enthusiasm for her colleague (and protégé) in taking on such a huge role in both conventions was based in her faith in Dennison's abilities. "I knew that Kara could do that Tom Baker interview," she said, "and I knew she was scared to do it. Everyone thought I would take that one because that's my thing. And I'm all, 'No, that's [for] Kara because she can do it.' I stayed there [on stage] in case she needed to pull the 'Oh shit!' handle, but I knew she didn't have to [do so]."
And Speaking of the Care and Feeding of Guests…
In doing my research for this article, I contacted two of Intervention's former guests of honor regarding their experiences at the convention.
Webcomics creator and former manga editor Shaenon Garrity (Narbonic, Skin Horse) wrote by email, "Intervention is one of the best cons I've done: friendly, welcoming and lots of fun. [My co-writer] Jeff [Wells] and I attend every year we can and always look forward to it."
Paul Sabourin, one half of the musical comedy duo Paul & Storm, wrote by email, "Intervention Con was a wonderful opportunity to interact with fans and attendees on an intimate, personal level about things we all care about. I met many very nice people through the weekend, and it was a pleasure to be a part of the event."
Other former guests appear to feel similarly, as they've returned year after year to present workshops and give talks. I asked Hartstein and Dennison why they thought so many people enjoy being a guest at Intervention or (Re)Generation Who; the answer was both surprising and expected at the same time.
"If what the Doctor Who actors are telling me is accurate," Hartstein said, "we actually take care of people and our staff a bit better than other cons. We feed our staff. We actually have two chefs that feed our guests. And it's not crappy food. It's really good food."
"We don't cram multiple people in a [sleeping] room, or if they're with their friend or their [spouse] we put them in their own room. We don't overwork them. We look at it as, yeah, you're a guest, but how can we make this the most fun three days that you've ever had—for everybody. I've been told by a lot of the A-List celebrities that a lot of cons treat guests like zoo animals behind the scenes, and I was surprised to hear it," Hartstein said.
Dennison added, "I've been a guest and presenter at some cons where they're like 'You've got to do a minimum of six panels.' And they'll just work you. And then, maybe there's food. Maybe they give you a per diem. Maybe they order you a pizza at some point. But in this case, and I can say this as both guest and staff, I never felt pressured [at Intervention.] I never felt like I was being run into the ground like at some other cons."