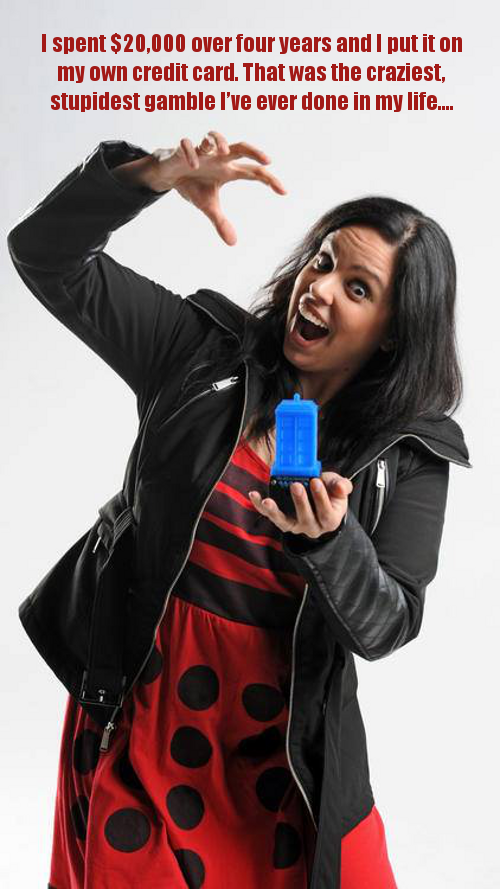 The Birth of a New Type of Convention
There are three questions that anyone should ask a first-time con runner. The first two are why are they holding this convention, and what makes theirs different from every other convention out there.
Hartstein's answers are anchored in her own experiences as a webcomics artist (and convention guest. "A lot of creativity and artwork comes out of cons, but they don't always get the support they need to take it to the next level," she explained. "There was one girl in particular who came to my table [around 2004] and she said that some stuff that I said [at a panel] was the only reason that she decided to go to college, that she was going to get out of the abusive situation she was in. That was pretty powerful. I wanted to create a place where it's just a supportive atmosphere for pan-fandom creativity. You could have a robot based on Pokemon or a film based on Batman. It's totally legit, and we will help you try to figure out how to get it to the next level."
Inspired by the Internet culture track at Katsucon, Hartstein debuted Intervention in 2010 with a wide variety of guests, including webcomics artist Fred Gallagher (Megatokyo), the live art competition troupe Super Art Fight, nerdcore musician Devo Spice, and Philip Hofer, the lead programming developer for ComicPress for WordPress.
For a first-year convention to have 47 people or groups listed on your Guests of Honor page and have events like a charity auction to benefit the Electronic Frontier Foundation, a cosplay burlesque show, and a concert on your Programming page sounds like a lot of expense, and so the third question one should ask is: How did they pay for all of this?
Hartstein is definitely a "Do as I say, not as I do" sort of con runner. "I did it in a way I do not recommend anybody follow. I'm going to make that very clear," she stated. "I spent $20,000 over four years and I put it on my own credit card. That was the craziest, stupidest gamble I've ever done in my life but between [my partner James] Harknell and myself having okay jobs, we paid it and we were able to deal with it and get it done the next year. And plan for [only] 300 people, unless you're crazy—especially if it's not based on [an easily recognizable] property like Doctor Who or Star Trek."
However, Hartstein added that she was able to use her experience running that first year convention on her professional resume and landed contract positions as a marketing project manager with major companies to help her recover from the financial loss. She was also quick to reveal that the second Intervention actually made money, but she hasn't yet recovered all of her initial investment from the convention itself because neither she nor Harknell take a salary.
In creating what she refers to as a "pan-fandom maker space," Hartstein is also hoping to revolutionize the way conventions are staffed. "I want to offer [the] Intervention [staff model] to other con runners because I use it [as a tool] to develop my talent for my big, big, other high-profile events," she explained. "It filters people out who want to staff [a convention] for the wrong reasons. 'Helping the community [at Intervention]'? That doesn't sound as cool as hanging out with [Doctor Who actors] Tom Baker and Colin Baker. So if somebody's down with helping the community, nine times out of ten, they're going to be amazing when it comes to working with the big stars."
"I look at [running a genre convention] as developing talent because even if the staffer leaves, there's still a relationship there and we can still help each other out. Nobody gets anywhere on their own. It might seem like jerks succeed, but they don't," she added.
So what kinds of things does Hartstein do for her staffers when she's not running the convention? She not only acts as a job reference, but she will help them write their resumes. She's also not stingy when it comes to sharing her networking contacts—within reason—and will do this with every person she meets, including her guests of honor.
In return, what Hartstein expects from her staffers is that they will have the confidence to be able to come to her when a mistake is made so that it can be repaired immediately.
Hartstein referred to the "I don't care about the money" speech that she gives to every member of her staff. As she explained it, "As far as people getting upset and people getting frustrated, I want to make it clear to everybody on the first day: If something screws up, I'm not going to blame you. Nobody's going to blame you and if that happens, that's inappropriate and I'll take care of it. We don't care about the money. What we care about is the response because things are going to go wrong."
"It's part of resetting peoples' expectations of how they should be acting. Because when people get stressed, they start yelling. Or they're afraid they're going to be blamed for something that went wrong. Kara can even say how many times I actually blamed somebody behind the scenes for something," Hartstein added. "I'm always [saying], 'Let's look into the situation and see what happened.' I go by the Captain Picard [rule of thumb, like] when he talked to Wesley when he failed his first Starfleet exam [in "Coming of Age".] [I'll ask], 'Did you do your best?' Then that's all I can ask for, and that's all I wanted. And that's if you fail. We'll get you the help you need."
Dennison added, "I think we've all been through jobs where if you make one mistake you're out. We've [all] had the bad employers. Many of us [have] worked jobs where we become terrified if that if we mess up the one time, we're going to bring everything crashing down. Whatever mistake you've made, one of us has probably done something just as bad."