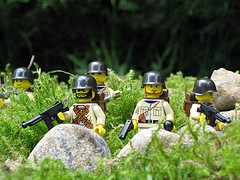 After two years of blogging about upcoming movies, I thought that I'd seen all of the most ludicrous things you could adapt into a movie actually get the green light and funding to become a movie. Yes, even the upcoming Candyland and Battleship films.
Until this exclusive from Borys Kit over at The Hollywood Reporter's Heat Vision blog which announces that there will be a movie based on the LEGO franchise, that is.
According to Kit, Phil Lord and Chris Miller (Cloudy With a Chance of Meatballs) are in final negotiations to direct a blended live-action/animation movie featuring the ubiquitous building bricks for Warner Bros., under the supervision of producers Dan Lin and Roy Lee with Jill Wilfert handling the money and creative contributions on the LEGO side. And there is bound to be lots of creative influence from the LEGO folks, who are shrewdly and wisely protective of their brand, trademark, and copyright.
There is no word yet what the plot will be, but Kit reveals that Lord and Miller will be working on this film the second they're done with the upcoming remake of 21 Jump Street .