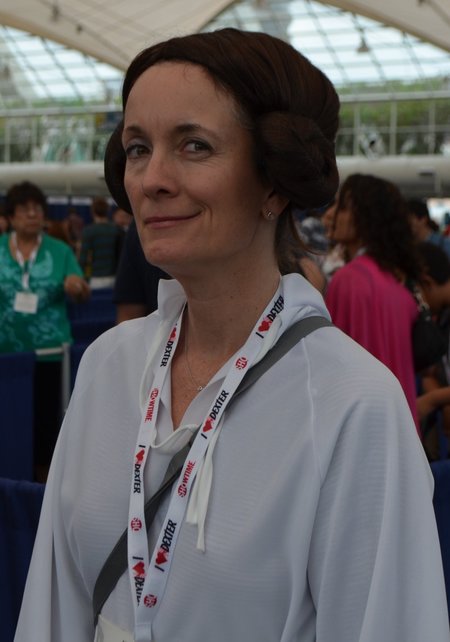 A long time ago, on an Internet far, far away, Carrie Goldman's parenting blog "Portrait of an Adoption" was swarmed by Star Wars fans who wanted to show her daughter Katie that it was totally okay for girls to like the movie and series.
Now, Goldman is at San Diego Comic Con to moderate the con's first-ever panel about "anti-bullying" on Sunday at 4:00 pm in Room 4, featuring panelists like NOH8 founder Adam Bouska, TV writer Jane Espenson ("Buffy the Vampire Slayer," "Once Upon a Time"), and voice actor and entrepreneur Ashley Eckstein ("Star Wars: The Clone Wars," Her Universe). She's also there to promote the book she wrote, Bullied: What Every Parent, Teacher, and Kid Needs to Know About Ending the Cycle of Fear, which grew out of her work with Katie's school to address the "bullying" problem.
And like most people who go to Comic Con for the first time, Goldman posted a selection of her favorite photos of people in cosplay. But what strikes me about her selection of photos and captions is that Goldman emphasizes how much fun everyone in her photos is having or how great they look, not how "hot" or "sexy" or whatever.
(Also, this Princess Leia? So much gravitas!)
It's a nice, refreshing change, and if her panel goes well tomorrow, I hope to see more of this kind of refreshing change when viewing cosplay galleries.