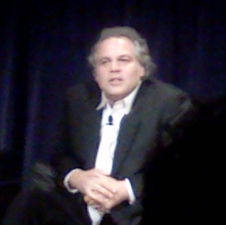 In addition to being able to hear "Law & Order: Criminal Intent" actor Vincent D'Onofrio speak about his experiences directing his first movie, a slasher/musical called Don't Go Into the Woods, the audience members at the Center for Communication screening and Q&A of the film heard from D'Onofrio himself that he had a meeting with people from Tribeca Films to pick up the film for distribution. However, when contacted, a spokesperson from Tribeca Films declined to comment.
Shot on a budget of $100,000 in upstate New York, the Don't Go Into the Woods centers around an indie rock band who while taking a break from their "daily distractions," end up disappearing one by one and dying from gruesome deaths, singing all the while. D'Onofrio and his collaborators Sam Bisbee, (co-executive producer, co-screenwriter and composer) and Joe Vinciguerra (co-executive producer and co-screenwriter) answered questions at the Q&A session, which was moderated by Brad Balfour from the Huffington Post.
About the production process, D'Onofrio said that there isn't a big difference between writing a love song and writing a song about death, and added that there wasn't any CGI used in the production. Also in attendance was one of the actors, Cassandra Walker (Ashley), who said that while she heard the music before reading the script, the concept was a bit wild to her.
Finally, D'Onofrio proved that he was well-versed in horror film lore by expounding a bit on "refrigerator logic" and how it applies to his film:

Further details about a release date for Don't Go Into the Woods will be added to this article as they become available.
---
Thanks to Lyssa Spero for contributing to this article.