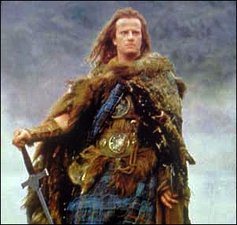 When we first announced last year that the Highlander movie series would be receiving a remake/reboot courtesy of Summit Entertainment, Gordon McAlpin's source told him that the budget would be from $80 to $100 million USD. Now, it looks like part of that financing has been completely secured.
In his article at the Hollywood Reporter's Heat Vision blog, Jay Fernandez wrote that RCR Media Group will be co-financing the project with Rui Costa Reis and Eliad Josephson as executive producers.
If you've never heard of RCR Media Group, then you must not watch a lot of of direct-to-DVD movies, of which RCR has produced plenty. Completed films on their slate include sequels or sound-a-likes to S.W.A.T., Stomp the Yard, and Wild Things, featuring veteran actors like Robert Patrick and Jasmine Guy, and pretty unknowns like Jillian Murray.
The script's first pass was done by Iron Man co-writers Art Marcum and Matt Holloway, and Twilight screenwriter Melissa Rosenberg has also worked on it as well. With the remake's director Justin Lin's Fast Five still in the top three on the weekend box office charts, the additional bump to the budget could mean that the new Highlander could afford to hire some additional top quality talent.
Just as long as Christopher Lambert, Adrian Paul, or Peter Wingfield get cameos, right?