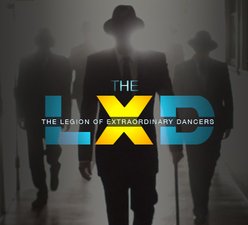 Picking up where I left off, I didn't stay very long in the southern end of the Javitz Center because the one panel I'd RSVP'd for was in the northern end of the hall with the majority of the large publishers, game companies, and stores.
When I registered as a member of the Press, I had to supply my email address, presumably so that I could receive a confirmation that they received my information. What also happened is that as the convention grew new, my Inbox became flooded with press releases from those same publishers, game companies, stores, and individuals who wished to promote their panels and get members of the Press to write about their work.
I'm not sure if that's how they operate over at Comic Con in San Diego, but I will say that it was a very smart thing for Reed to do because if it weren't for that, I wouldn't have known about the panel featuring Jon Chu from the LXD.
Yes, I'm talking about the dance group which blew everyone away with their exhibition dance during last year's run of "So You Think You Can Dance," were invited to do a TED talk/performance (after which Madd Chadd allegedly did the robot with Bill Gates), and brought interpretive dance back to the Academy Awards ceremony. I'd heard about their web series before but didn't watch any of the episodes for one reason or another, so I thought that it would be great to see what it was all about. The panel didn't disappoint, and I was even able to speak to creator Jon Chu about the comic book story elements in the web series and how they'd like to tell their story in other mediums.
Listen to the interview with Jon M. Chu (and I apologize for getting the seasons numbers wrong!)
Now, I'd had an expensive hot dog and a medium-sized lemonade before the panel started, which meant by the time the panel was over, I had to use the bathroom. One of the things I remember from my days as a Sequential Tart was often joking about the way one could tell that women had successfully infiltrated the "boys-only" club of comics conventions is that the line for the women's room was longer than the men's. Over the years, this "joke" has become a reality, and while I feel great about that in terms of achieving parity, my bladder was not feeling the same way when I encountered the line outside of Hall A.
Despite an amendment to the building code requiring more women's stalls than men's in New York City public buildings (PDF), I still feel that if I have to go, I have to go, especially since I've had kidney problems ever since I was born. Thus, it was with a little bit of bravado and a whole lot of chutzpah that I turned right around and walked over to the other side of the hall to get in line for the men's room. Another female attendee had the same idea I did, and as we waited for the one stall, we talked about what we were there at the convention to see, while encouraging the poor confused men who entered and saw us in line to go ahead and use the urinals.
The funniest part of all was catching a glimpse of Brooklyn-based comics artist Dean Haspiel out of the corner of my eye, and saying hello to him… after he washed his hands, of course. He was naturally very surprised to see me, and when I found out that he was on his way to the Vertigo panel, I decided to make that my next stop as well. I got there in time to hear Haspiel speak about his most recent work called Cuba: My Revolution, a collaboration with writer/painter Inverna Lockpez. I attempted to catch Haspiel after the panel for a brief interview, but he said that he had to do a signing at a booth with writer/collaborator Jonathan Ames (The Alcoholic, HBO's "Bored to Death") and to try to catch him there.
That was just perfect for me, because by that time, I had started receiving text messages and Speed McNeil and let me know that she was in row F of the Artist's Alley, which I had completely skipped over during my initial pass. Armed with this information and knowing that I had about an hour or so to kill before Haspiel was free, I wandered back through the Hall A throng and was surprised to find Evil Inc. creator Brad Guigar sitting with Scott Kurtz at the Webcomics.com booth.
I have a special place in my heart for Guigar because he was the first creator whom I'd interviewed the weekend after I left Anime Insider and I've followed almost all of his projects with great interest since then. I figured that now was as good a time as any to talk to him about Webcomics.com, and exactly why any and all webcomics creators should join up.
Listen to Brad Guigar's Webcomics.com pitch, which was successful enough to convince me that our own Kara Dennison needed a 1-year membership
…to be concluded next week