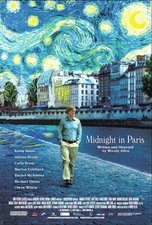 Midnight in Paris


Directed (and written) by Woody Allen
Starring Owen Wilson, Marion Cotillard, Kathy Bates, Rachel McAdams, and more
Rated PG-13 for some sexual references and smoking
When I revealed earlier in the evening that I'd never seen an entire Woody Allen film, no less than five different people from all across the country (and Puerto Rico) and spanning in ages from younger than me to older than me were in shock. How is it that I, as a transplanted New Yorker, have never seen Annie Hall? Or Hannah and Her Sisters? Or even Mighty Aphrodite or Deconstructing Harry?
Believe me, I've wanted to. Back when I first moved to the East Coast, I rented Annie Hall on Netflix, and couldn't finish it. My reaction at the time was this:
How am I supposed to cheer for Alvy Singer, a neurotic man who constantly puts down his lovers? He's upset with his second wife for being so into intellectuals, and yet tries to get Annie to take college courses to become one.
However, I am not one to let one bad impression of a movie that came out the same year I was born keep me from seeing what writer/director Woody Allen brought with him to this year's Cannes Film Festival. And unlike L.A. Times critic Kenneth Turan (whose review I accessed yesterday but is dated with today's date) who deliberately was coy with the details of the plot, I'm afraid I have to let loose with a ton of spoilers. Continue reading "Trisha's Take: Midnight in Paris review" →