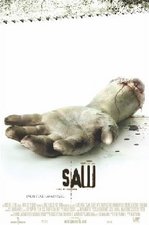 In a wonderful bit of synergy, the last movie in the Saw franchise was released in 3D right before Halloween. Having never seen any of the movies before, Lyssa Spero and I decided to watch the first one a while ago and recorded the results for all of you to hear.
I must warn you that the audio in this is terribly NSFW if you don't have headphones on because there were just that many moments of WTF going on. Also, it goes without saying that this commentary is full of spoilers for not only the first Saw, but a few of the others, and has casting spoilers for Saw 3D.
Anyway, I hope you enjoy listening to this as much as we enjoyed recording it.
https://www.geekingoutabout.com/wp-includes/Podcasts/GSA_Saw-1_Commentary.mp3