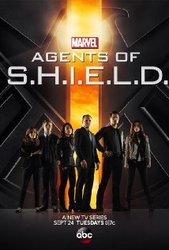 Created by Joss Whedon
Directed by David Straiton, Joss Whedon
Starring Clark Gregg, Ming-Na Wen, Brett Dalton, Chloe Bennet, Iain De Caestecker, Elizabeth Henstridge
Guest Starring J. August Richards, Cobie Smulders, Ron Glass
Like most people, I loved and adored Agent Phil Coulson ever since he started bothering Tony Stark in Iron Man. And throughout the new Marvel movie universe, Clark Gregg's Coulson has slipped in and out, around, and through dense blockbuster movie plotlines to deliver bon mots, a practical everyman's view, and a certain insouciance that can't be analyzed but rather just needs to be enjoyed.
So when I first heard that Agent Phil Coulson would return to the 'verse in a TV series called "Marvel's Agents of S.H.I.E.L.D." as the leader of a small strike force within the S.H.I.E.L.D. organization and that the TV show would be created by Joss Whedon, I was conflicted. Would this be awesome, like "Firefly"? Or problematic, like "Dollhouse"?
Note: There will be spoilers in this review. Oh yes, there will be spoilers. Continue reading "Trisha's Take: "Marvel's Agents of S.H.I.E.L.D."" →