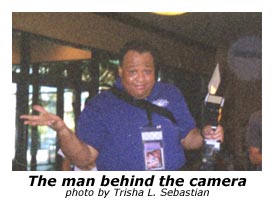 ETA: All is mostly well! Update at the end.
On a night when an old white guy and a younger white guy are debating over which of their respective political ideals purport to help create more jobs in the U.S., it's very easy to be caught up in their rhetoric and ignore the reality that faces the people who have found themselves out of work and desperately trying to keep things going another day.
An example that hits very close to home for me is that of Kevin Lillard, one of the first to document North American cosplay enthusiasts and anime conventions at his now-defunct website "A Fan's View." His website was most active in the late 1990s and early 2000s where he would criss-cross the United States to take photographs of cosplayers, panelists, events, and many more of the activities that surround an average anime convention.
However, after a round of layoffs at the Indianapolis Star where he had been a reporter for over 18 years, Lillard became homeless, and was forced to live out of his car. This Facebook message, written in the middle of the day on October 12 details how poor his situation currently is: Continue reading "Geeks Helping Geeks: Help this man find a job!" →