One of my favorite blogs to dip into from time to time is Smart Bitches, Trashy Books. Originated by writers Candy Tan and Sarah Wendell, the blog seeks to showcase what's good, fun, informative, sexy, and surprisingly intelligent about the romance novel industry through their irreverent and occasionally deep book reviews.
Growing up, I loved romance novels. In my parents' bedroom, half of a shelf was dedicated to Danielle Steel books. These were "forbidden" books so naturally as a teen, I devoured all of them. Once I graduated from college, reading romance novels became something my mom, my sister, and I could talk about—just as long as we didn't talk too long about the sex scenes, that is.
About a year ago, I decided that I wanted to get back into reading some romance and especially finding a new author to follow as I'd phased out of my Danielle Steele, Fern Michaels, Catherine Coulter, LaVyrle Spencer, Maeve Binchy, Jennifer Crusie phase of reading. And before you ask, even Nora Roberts' romance novels had been wearing a bit thin. Thankfully, Candy and Sarah have a section on their website devoted to their "best" blog entries, which is how I learned about Loretta Chase. Armed with a new name, some Amazon.com credit, and a visit to the bookstore, I was ready to read.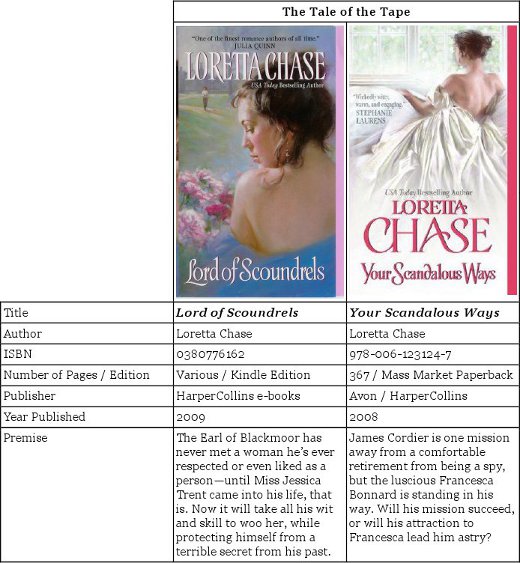 Since it was the top recommendation, I dived into Lord of Scoundrels first. What struck me at first was how important the prologue was to understanding the entire novel and most importantly, creating a wave of sympathy for male lead Sebastian Ballister, the Marquess of Dain, the Earl of Blackmoor—and also an emotionally-abused young boy who grew up to be a rake.
With the prologue establishing a strong motive for Lord Dain's behavior, Chase fast-forwards a bit in time to switch to the other half of this romantic duo, Miss Jessica Trent. The daughter of a gentleman, her character is firmly established as being a bit eccentric for the Regency era in that she would prefer to become a shopkeeper (an antiques dealer, really) rather than accept any of the numerous marriage proposals she's been tendered due to the women in her family having a reputation for being fertile. In fact, if there are any problems I have with this book is that Jessica seems too good to be true.
Take this early passage for example, which is a description of Jessica by her brother's butler:
[Jessica Trent] had inherited her widowed grandmother's alluring looks: the silken hair nearly blue-black in color, almond-shaped silver-grey eyes, alabaster complexion, and graceful figure—all of which…had proved immune to the ravages of time.

More important…Miss Jessica had inherited her late father's brains, physical agility, and courage. She could ride, fence, and shoot with the best of them. Actually, when it came to pistols, she was the best of the whole family, and that was saying something. During two brief marriages, her grandmother had borne four sons by her first husband…and two by her second…and daughters and sons alike had bred males in abundance. Yet not a one of those fine fellows could outshoot Miss Jessica.
If a character is too perfect (that is, heading into Mary Sue-ville), I find it hard to like them. When I read a romance novel, I want to believe wholeheartedly that the romance will work out, that the heroine will be able to triumph over her adversaries. In short, I like underdogs in romance; with this setup I found myself gravitating more towards Dain than to Jessica. And in fact, I wonder if that's what Chase wanted her readers to do: to see the male lead as the "damsel in distress" and the female lead as the perfect lover who will come along and "fix" all of his problems. With that interpretation, Scoundrels becomes a somewhat post-modern romance novel, endearing me to it even more.
When Dain has his big moment of epiphany, it comes naturally because of everything you've seen him endure before—especially the slow change of his character from anti-hero to hero due to The Power of Lurrrve™. That he undergoes this change without losing everything that still makes him appealing is also a testament to how well Chase has created him.
Contrariwise, I couldn't find anything redeeming about either lead character in Your Scandalous Ways. The reason why I purchased it was because I've always had a soft spot for hookers with a heart of gold. Upon learning that the lead female was a cortigiana onesta in almost post-Napoleonic Venice in the same vein as Veronica Franco, I had the book in my hand and my credit card in the cashier's faster than you could say, "Boo." Unfortunately, I was disappointed to meet Mrs. Francesca Bonnard who was less "classy courtesan" and more "flighty ethical slut." Not that I have anything against ethical sluts, but dammit, I was expecting a story about an intelligent courtesan!
Francesca's adversarial lover is Mr. James Cordier, a world-weary spy for the British who has been charged with retrieving important documents from Mrs. Bonnard's possession. He wants nothing more but to get the mission done and end his spying career in favor of an average life in England; of course, he falls head-over-heels for Francesca for reasons that are never really clearly defined. Despite a rather inventive way of beginning Francesca's introductory chapter ("Penises. Everywhere.") I couldn't find anything interesting enough about her personality or background story to intrigue me. It was worse with James, because just like Jessica Trent, he seemed too perfect.
It's not just the characters that bother me about Ways either. The central conflict is the cat-and-mouse game between James and Francesca, but the latter isn't smart enough to realize that James has an ulterior motive in getting to know her until about halfway through the book. When it came time for the final confrontation between Francesca and James on one side and a murderous traitor and his/her lackey, the climax and resolution was brief and predictable that I almost felt as if I'd wished I hadn't gone to the bother of trying to finish the book.
So, the winner of this battle is Lord of Scoundrels, and if there's anything that this experience taught me, it's to make sure I read chapter excerpts before I go trying to read another Loretta Chase book again.