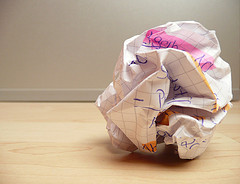 Just a friendly reminder to let you know that there are only six more days remaining to enter the first annual GeekingOutAbout.com birthday contest! The deadline is May 31 by midnight Eastern time, and once again, here are the entry instructions and rules:
1. Write an original short story of exactly 50 words in length. Yes, "original" means no fan-fiction. You can enter as many times as you like, but each entry should be in a separate email, and only one of your entries can count as a winner.
2. Send the story in the body of an email to geekingoutabout@gmail.com, with the words "50 Word Story Contest" in the subject of the email. If you want to give your short story a title, you can also do that in the subject line of the email.
3. Tim Sevenhuysen, co-editor Jill Pullara and myself will be picking three winners, all of whom will receive an eBook bundle containing all of the electronic versions of Fifty-Word Stories: Volume One . One Grand Prize Winner will receive the above and a $25 dollar USD gift certificate to the online retailer of your choice.
Once the contest is over, we will be evaluating all the entries and the winner should hopefully be announced by no later than June 7, with the winning entries posted here in the blog.
And if you're curious as to what a fifty-word story looks like, here two of my recent favorites of those posted by Sevenhuysen at his site:
She stood at my door
one black glove, one red
and a lacy half-veil

Good evening, ma'am
icily

I didn't want what she was selling
but my kids did

Of course, they hadn't heard
the asking price
the surcharges
the cost-to-benefit ratios

Just the allure
the affect

I've been there
and
The Warm Numbness of Hypothermia

A final luxury granted to the condemned: "How would you like to go?"

He contemplated deeply, finally requesting the warm numbness of hypothermia.

In this land of sun and sand, his choice spoke to a greatness of spirit that moved the tribunal's hearts.

But it didn't move them that far.
Happy writing, everyone!