Trisha's Take: Midnight in Paris review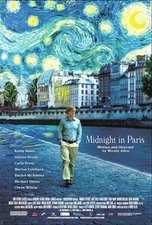 Midnight in Paris


Directed (and written) by Woody Allen
Starring Owen Wilson, Marion Cotillard, Kathy Bates, Rachel McAdams, and more
Rated PG-13 for some sexual references and smoking
When I revealed earlier in the evening that I'd never seen an entire Woody Allen film, no less than five different people from all across the country (and Puerto Rico) and spanning in ages from younger than me to older than me were in shock. How is it that I, as a transplanted New Yorker, have never seen Annie Hall? Or Hannah and Her Sisters? Or even Mighty Aphrodite or Deconstructing Harry?
Believe me, I've wanted to. Back when I first moved to the East Coast, I rented Annie Hall on Netflix, and couldn't finish it. My reaction at the time was this:
How am I supposed to cheer for Alvy Singer, a neurotic man who constantly puts down his lovers? He's upset with his second wife for being so into intellectuals, and yet tries to get Annie to take college courses to become one.
However, I am not one to let one bad impression of a movie that came out the same year I was born keep me from seeing what writer/director Woody Allen brought with him to this year's Cannes Film Festival. And unlike L.A. Times critic Kenneth Turan (whose review I accessed yesterday but is dated with today's date) who deliberately was coy with the details of the plot, I'm afraid I have to let loose with a ton of spoilers.
Midnight in Paris could be called a love letter to the capital of France, and it's the same kind of letter I could have written, as I have also loved the idea of Paris ever since I was a teen in Madame Hornacek's first year French class. The letter-writer in this case is Gil Pender (Owen Wilson) a successful Hollywood screenwriter of dubious quality who is working on his first novel. He and his fiancée Inez (Rachel McAdams) have tagged along with her parents who are on a business trip. Neither Inez nor her parents seem to really like France all that much, but Gil is in love with the city, and specifically the idea that the best time to be alive was Paris in the 1920s.
Unsurprisingly, in a Somewhere in Time-style twist, Gil finds himself whisked away to 1920s Paris, courtesy of a vintage Peugeot which takes him to a wild and rockin' party where he just so happens to run into F. Scott Fitzgerald (Tom Hiddleston) and his wife Zelda (Alison Pill). And from there and over subsequent nights, he meets other such luminaries as Ernest Hemingway (Corey Stoll), Gertrude Stein (Kathy Bates), and Salvador Dali (Adrien Brody) who all in their own way reinforce the idea in Gil's mind that he is not living the life that he needs to be living.
Other critics have remarked that as the surrogate "Woody Allen" character, Wilson's Gil is not as neurotic or frantic as Allen himself would have portrayed him, and perhaps that's what I liked about Wilson's portrayal. At the same time, for someone who is experiencing something which a more normal person would call a hallucination, Gil is perhaps a bit too eager to throw himself wholeheartedly into the delusion. It doesn't hurt that Inez, her conservative parents (Kurt Fuller and Mimi Kennedy), and the former college crush (Michael Sheen) who just happens to be in Paris at the same time are portrayed in such a way as to make you wonder why Gil proposed to Inez in the first place or why he ever thought that he would be accepted by her family and friends. It's a poor love match to start with, and even if their characters were hateful, McAdams, Fuller, Kennedy, and Sheen were such great antagonists that it makes it easier for Gil and the audience to want the magical fantasy to be real.
Other than that misstep in logic, the movie was written very well and conveyed its themes very clearly. I must warn you that it wouldn't hurt you to bone up on who the cultural elite of the day were; otherwise, just as it was in the theater I was in, as people are introduced and names get dropped, you will not understand why the rest of the audience is laughing. Perhaps the best parts of the performances by Stoll, Bates, Brody, and more is that Allen lets them bite into their historical roles with relish, and by the time they're done, there is very little scenery left. I was also pleased with the direction of the romance between Gil and Adriana (Marion Cotillard) because though it was predictable to start with, the way it resolved itself was more true to the story.
Above all, this movie is about not settling for what is easy and conventional, which is pretty easy for one to do if you have the kind of money Gil Pender or his fiance's family has. For the rest of us who can't afford to jet off to France for weeks on end, just watching this movie will have to suffice for now.
---
Midnight in Paris which premiered at the Cannes Film Festival over a week ago is currently only in Los Angeles and New York starting today. Whether or not it will come to a theater near you depends on how much people in your state (or country) like neurotic Americans in Paris.