Geeking Out About.com's first birthday comes with presents for readers and writers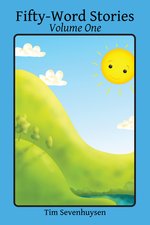 My first love has always been reading and the written word, so I was pleased to receive this guest post from Tim Sevenhuysen about microfiction. And after I finished formatting it for the website, I thought, "What better way would there be to celebrate GeekingOutAbout.com's first anniversary (which was May 1), but with a creative writing contest?"
With gracious sponsoring from Sevenhuysen, we're pleased and proud to announce the first-annual Geeking Out About.com birthday contest, and here's how to enter:
1. Write an original short story of exactly 50 words in length. Yes, "original" means no fan-fiction. You can enter as many times as you like, but each entry should be in a separate email, and only one of your entries can count as a winner.
2. Send the story in the body of an email to geekingoutabout@gmail.com, with the words "50 Word Story Contest" in the subject of the email. If you want to give your short story a title, you can also do that in the subject line of the email.
3. Tim Sevenhuysen, co-editor Jill Pullara and myself will be picking three winners, all of whom will receive an eBook bundle containing all of the electronic versions of Fifty-Word Stories: Volume One. One Grand Prize Winner will receive the above and a $25 dollar USD gift certificate to the online retailer of your choice.
4. All entries must be received by midnight EST on May 31 in order to be eligible for a prize.
If you have any questions about the contest, reply to this post and we'll answer them as best as we can.
Good luck, and good writing!