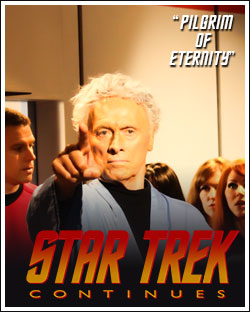 Star Trek Continues – "Pilgrim of Eternity"






Directed by Vic Mignogna
Written by Steve Fratt and Jack Trevino
Story by Vic Mignogna and Jack Marshall
Starring Vic Mignogna, Todd Haberkorn, Larry Nemeck, Chris Doohan, Grant Imahara, and featuring Michael Forrest
Rating: This series is suitable for all-ages.
As a bit of a disclaimer, I was never really into the Star Trek franchise as a young geek. The Original Series was long gone before I was born, and since my parents aren't into fiction that strays too far from reality, I didn't watch "Star Trek: The Next Generation" with my parents, like many of my fellow geeks did with theirs. Therefore, when I heard that anime voice actor Vic Mignogna was involved with a project to continue the original serial, I didn't think too much of the project at first.
At the same time, this is the same Vic Mignogna who produced his own fan-film for Fullmetal Alchemist titled "Fullmetal Fantasy" where he dreams that after receiving a replica State Alchemist pocket watch, he has transformed into main character Edward Elric and that everyday people around him have been transformed into characters from the series; this is definitely a form of meta-fan service as Mignogna is the English dub voice for Edward Elric. According to Mignogna, there were some legal issues regarding his showing it at anime conventions for a while; this ban seems to have been lifted since the short film has now shown up on Mignogna's concert DVD.
I believe I saw "Fullmetal Fantasy" within the first year of its debut in either 2004 or 2005, and I remember being impressed with how professional it all looked, even to the point of one of the scenes taking place during a rainstorm, one of the most expensive effects to reproduce for filming. After doing some more research on the production staff of Star Trek Continues and learning that Steve Dengler, philanthro-geek extraordinaire was an executive producer, I knew I had to see at least one full episode. Continue reading "Trisha's Take: "Star Trek Continues: Pilgrim of Eternity" review" →