Among the good things that have come out so far regarding the problem with the most recent SFWA Bulletin is this encounter between Ursula Vernon, creator of the Digger webcomic and the Dragonbreath series of books, and John Scalzi. I'll let Vernon speak for herself here:
SFWA announced that they're putting a task force on fixing the Bulletin RIGHT NOW and that's a good thing. We are hopeful!

John Scalzi said, somewhat ruefully, on Twitter that this is what he gets for thinking that the last month of his tenure as SFWA president would be quiet.

I told him that he had tempted the Fannish Misogyny Fairy with such thoughts.

He said he wanted to see an illustration.

There are very few people for whom I will whip off a spontaneous illustration, and I have to be in the right mood (my buddy Mur is still waiting for her sugar cube golem!) but all the stars aligned, I found photo ref of Hoary Marmots (because A) these are very hoary attitudes and B) if you google them, there are some marvelous shots of hoary marmots sitting around in groups, looking like grumpy old men) and…well…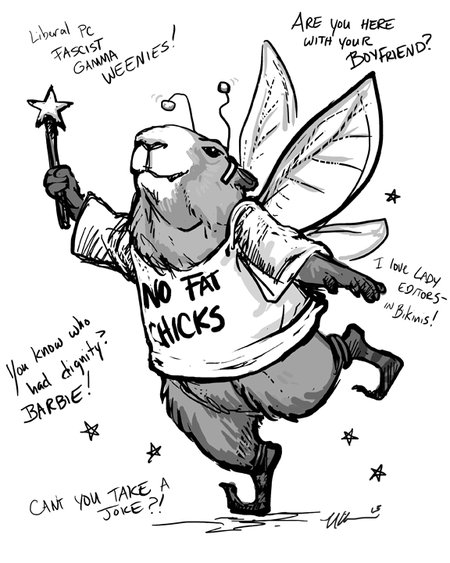 Prints are available through Vernon's website.