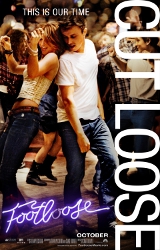 Footloose


Directed by Craig Brewer
Starring Kenny Womald, Julianne Hough, Dennis Quaid, Miles Teller
Rating: Not Available at time of Review
When I first heard almost two years ago that Paramount Pictures was going to produce a remake of the cult Kevin Bacon dance movie Footloose, that it wouldn't have elaborate dance sequences, and that it would be an "edgier drama" than the original or the musical based off of it, I said that they were off their rocker:
Remember a little movie musical called West Side Story? You know, that one that's based off of William Shakespeare's Romeo and Juliet and won 10 Academy Awards, including the one for Best Picture?

Well, that movie had racial discrimination, gang violence, death by knife, and a near-rape scene and yet also features some of the most elaborate and most demanding choreography ever seen on film, thanks to director Jerome Robbins and his cast of mostly Broadway veterans.
At the same time, however, I like to keep in mind that while yes, there really are very few original plots out there—and way too many tropes—as Multiplex creator Gordon McAlpin recently put it, a good movie is all in how it's executed.
By the by, there will be plenty of spoilers for the plot of the original Footloose movie in this review; it's been 27 years since it came out, for crying out loud. However, I will try like hell not to spoil exactly how the remake does things because I want you to be as pleasantly surprised as I was when I saw it.
Ren McCormack (Kenny Wormald) has moved from Boston, Massachusetts to the tiny town of Bomont, Tennessee (population: 19,200) to live with his aunt and uncle after his mother's death. While attempting to fit in, McCormack learns that a series of strict laws have been put into place following the tragic death of five high school seniors just three years earlier. With the help of some friends, McCormack hopes to overturn the unjust laws so that everyone can feel free to dance.
Newcomer Wormald is enjoying his first major motion picture release as the lead after roles such as "Dancer" in films like You Got Served and even Clerks II and a run in the direct-to-DVD Center Stage: Turn it Up. Unfortunately, I can't tell from the material whether or not he's a good actor. Because director Craig Brewer and original screenplay writer Dean Pitchford stuck so close to the original story, I had a very difficult time seeing Wormald for his own abilities because I was too busy comparing him to Kevin Bacon's performance. Sure, Wormald is a much better dancer, but Bacon definitely has him beat in the acting department.
Where Brewer and Pitchford moved away from the original is where I liked Wormald the most, but I suspect that it's more due to the fact that they revealed more backstory and delved deeper into the themes of the original than it is to Wormald's acting abilities. Perfect examples of this are the scenes between Ariel Moore (played by real-life dancer Julianne Hough) and her bad boy race car driver boyfriend Chuck Cranston (Patrick John Flueger) when she tries to break things off with him, and after that when she has her showdown with her preacher father, played by Dennis Quaid. Due to the added bit of backstory which fleshes out Rev. Moore's motivation for helping push through the restrictive laws and some other scenes which showcase Ariel's rebelliousness, Hough's final outburst and emotional breakdown is so powerful that it's difficult to watch (and not just because it may be triggering to some). By the end of the sequence, I wondered why no one had thought to shove this girl into some serious psychotherapy. It's because Brewer decided to delve deeper into the themes of loss and grief and how they change a person that the story as a whole became stronger.
I also loved Miles Teller's portrayal of Willard, Ren's first friend in town. Teller infuses Willard with such glee and unabashed love for his town and all the people in it that you completely forget that he's supposed to be a "stupid yokel" and are simply charmed by him. I had a feeling I'd seen Teller somewhere before, and was pleased to learn that he'd been in Rabbit Hole in a much more demanding role—playing opposite Nicole Kidman, of all people. I laughed the hardest during his scenes, and Teller definitely stole the focus from Wormald in every scene they had together. Another bit I noticed and loved was that it was the owner of the drive-in theater and the owner of the cotton gin who wanted to keep rock and dance music alive in the town, a nod to how African-Americans have always tried to keep their music alive when it's being repressed; this is apparently a common theme in Brewer's work, as seen in his breakout film Hustle & Flow.
However, in attempting to give Ren more of a backstory, they inadvertently made him "bulletproof"—that is, after two certain scenes, one between Ren's uncle Wes (Ray McKinnon) and the reverend, and another shortly after between Ren and the school principal (Brett Rice), there is no way that Ren can do anything wrong because thinking so will make you out to be a Bad Person. This turns Ren into a Gary Stu, and while those scenes were emotionally satisfying for the smackdown within, like a Twinkie, you start to realize that the scenes were hollow and full of fluff. As such, the final brawl between Chuck's crew and Ren and his friends becomes rather anti-climactic, even if Ariel and Rusty do manage to earn their Badass Female Fighter merit badges during it.
"But what about the dancing?" you may ask. "Tell me about the dancing!" For every point that Brewer and Paramount Pictures earned for casting real live dancers as their leads, five points should be taken away for shooting the group dance scenes so haphazardly that you can't even see their movements. More telling, the storyboarding keeps the camera focused on above-the-torso shots. It's not like people who are going to see Footloose are going to be turned off by longer and more elaborate dance sequences.
Just as the first flawed Harry Potter movie for me resulted in my making a mental checklist of which scenes made it into the adaptation, which did not, and what things got added rather than fully enjoying the story, so went my viewing of the new Footloose. That is not to say that I didn't like it. It's just that one can only have so many Twinkies.
---
Warning: Common side effects of seeing Footloose, which will go into wide release on October 14, is that you will have the song by Kenny Loggins stuck in your head for days. Everybody cut—!