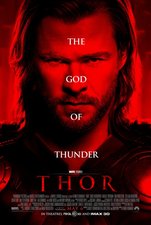 As per the numbers from Box Office Mojo, this weekend's release of Thor from Marvel Studios made it the number one movie in the U.S., grossing an estimated $66 million USD, beating out the two new counter-programming romantic comedy releases of Jumping the Broom and Something Borrowed (which 9is based on a chick-lit book), distributed by Columbia TriStar and Warner Bros., respectively.
The reviews are also fairly solid, ranking a 78% fresh on the Tomatometer, and with that kind of good word of mouth, I can easily foresee that it will be able to make back its $150 million USD budget, and then some.
Perhaps the best news of all is that if the story of one of Marvel's lesser-known heroes can muster this kind of box office, then things are looking up for the rest of the non-X-Men-related superhero movies on the studio's plate.
The gravy train will continue with Captain America: The First Avenger, out on July 22.