Around the Water Cooler: Marvel's Agents of S.H.I.E.L.D. – "The Well" (spoilers!)
Beware of the spoilers in this commentary on the latest episode of "Marvel's Agents of S.H.I.E.L.D.", now available to watch on the official website.
I sure hope I'm not the only one who's getting tired of these unimaginative episode titles.
Watching this opening sequence, this is the first time that I'm now starting to feel like I'm being pressured to keep up with the Marvel Cinematic Universe. I was totally going to see Thor: The Dark World, but life got in the way a little. At least my copy of X-Men: First Class arrived from the hold I'd placed on it at the library and I can watch that today before seeing X-Men: Days of Future Past. Also, at least the only things that are being spoiled so far are the fact that more Asgardians came to Earth, they brought a spaceship this time, and it destroyed buildings in London.
What was up with Ward's sudden prissiness regarding the clean-up? Is it that he didn't want another incident happening like the one where Simmons almost died? If so, he could have alluded to it better.
I call total and utter "bullshit" on the Norwegian dude's tree-felling technique. There is no way he could begin at about waist or torso height with a vertical cut and then end up with the tree being felled with a horizontal cut near the bottom. This is sloppy, sloppy work on someone's part and I have no idea who to blame.
And now he's being Mister Nice Guy? Ward, why does it seem like you're a completely different person now? Also, I'm somewhat glad that Simmons didn't bust out a Dune/"Fear is the mind killer" speech because a) they probably would have had to pay for that reference and b) it establishes that Simmons is not your average Whedonesque snarky geeky scientist. I totally love her more now.
In the scene where Coulson is being debriefed by the witness, I couldn't tell him apart visually from the male antagonist. I honestly thought they were the same person at first. Does that make me racist against Norwegians?
Peter MacNicol! One of the best guest stars they've had so far, not including the cameo by Samuel L. Jackson in the second episode. Of the few episodes of "Numb3rs" I saw, I loved his appearances as Dr. Larry Fleinhardt, Charlie Epps' academic associate.
Here's what I don't get about myth and epic tales. The Berserker Warrior doesn't want his staff to fall into the wrong hands, yet verses survive telling about where he hid the pieces. These verses were specific enough for the antagonists to be able to hike into the forest and find a specific tree, which was "marked" by a ring of stones around it. These stones are protecting something that's not supposed to be found, yet they're very conspicuous in this forest. None of this makes any sense whatsoever.
Despite the excellent character moments between Skye and Ward just now where she called him by his first name and he flashed back to a near-drowning incident, I am starting to hate this episode due to the sheer stupidity in it. Clearly, an important plot point was that Ward needs to get his bare hand on the staff, so I understand why it wasn't completely in Randolph's bag when they're underground in the catacombs under the cathedral. But he's now on the run after the encounter and the staff is still sticking out of his bag? And a short and squat duffel bag at that? Why not a poster tube? It would have had the same visual impact of knowing that Randolph still had the staff without having it just sticking out of the bag.
Perhaps the only thing that makes sense is that a university professor would have a car that doesn't have power locks.
Interesting statement about hyperaggressiveness as it relates to being hateful and petty just now. I think I rather like it. I also love how professional the rest of the team is about his little display.
OMG. Whatever doubt I had just now regarding the part about this epic myth has now just gone away with the reveal that Randolph is the Asgardian Warrior. My point about the staff in the bag still stands, however.
It's so interesting seeing Skye's civilian reaction to Ward's new-found inner dick as compared to May and Coulson's. It makes sense, too, because she is only learning how to act as a part of a team and when to trust certain people.
And…. I am so freaking happy that this episode ended with Ward and May rather than Ward and Skye. The "Terror in Tahiti" scene is pretty awesome, too.
And, just because I can, here's the picture I'd originally wanted to use to head up this blog post but didn't due to spoilers above the cut: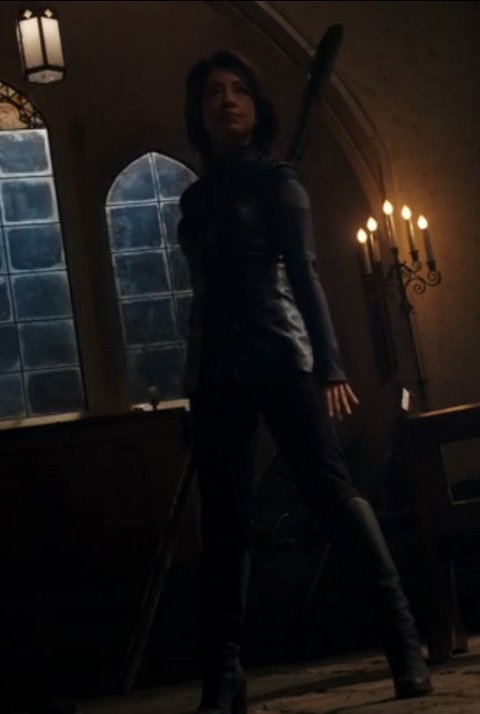 Damn, I could look at Agent Melinda May forever.