First Night Flicks: 12 Years a Slave (2013)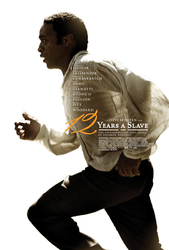 12 Years a Slave (2013)







Directed By: Steve McQueen
Written By: John Ridley, based on the memoir by Solomon Northrup
Starring: Chiwetel Ejiofor, Michael Fassbender, Benedict Cumberbatch, Brad Pitt
Rated R for violence/cruelty, some nudity and brief sexuality
Often times, directors (or studios) shy away from depicting the atrocities of our history in a way that may tempt audiences from shielding their eyes, as the main point of a film, after all, is to be seen. Thankfully, Steve McQueen is an unflinching filmmaker, unafraid of offending his viewers' delicate sensibilities. 12 Years a Slave is not an easy film to watch, nor should it be, given the subject material, but those with the stomach to sit through it will discover a profound work of art anchored by stunning performances.
The film tells the story of Solomon Northrup (the ever impressive Ejiofor), a free man living in Saratoga, New York in 1841. While his wife is away for work with their children, he is approached by two men and offered a lucrative, short term job in Washington, D.C. that perfectly coincides with his family's absence. While in Washington, he is drugged, kidnapped and sold into slavery for the next twelve years. This is a story of endurance of the human spirit, as Solomon refuses to lose hope or dignity in the face of his plight, but it is also a stark look at the cruelty of American slavery.
This is the first of McQueen's films that I have seen, and I admired his unwillingness to shield his audience from the horrors of slavery. He not only shows the pain and agony of a whipping, but goes further to show the physical damage, where other filmmakers might only show you the scars after the fact. The realities of master/slave rape and slave lynching are also shown to some extent, with one scene lasting an uncomfortably long time, but not without reason. However, one of the hardest scenes in the film to watch takes place at Freeman's (Paul Giamatti) house during a slave auction. It is not physically violent, but the emotional toll is devastating and reverberates through the next sequence of the film.
One of the aspects of this film I most appreciated, other than its stark depiction of slavery, was the layered and varied characters among both races. One might look at the description of a film such as this and think it depicts everyone in black and white, to pardon the term. But McQueen makes sure to show us varying degrees on both sides of the divide. The two slavers to own Northrup during his captivity could not be more different. Ford (Cumberbatch) is depicted as a gentle man who cares for the wellbeing of the slaves he owns. Meanwhile Epps (Fassbender) might be considered a caricature of an evil white slaver were he not based on an actual person.
Even with the strong direction and powerful story, though, this is a film that would not work without its central performance. It requires an actor of uncompromising dignity, able to show all sides of Northrup, from his humble beginnings in New York, to his defiance in the face of injustice and his determination and cunning in surviving the unthinkable. Ejiofor is more than up to the task as he has shown in his 16-year film career. Here is an actor whose name is unknown to most, but who always, no matter how small the part or ridiculous the film, puts in a dignified, believable performance. It is time more filmgoers knew his name. In this film, he is able to maintain his dignity throughout his ordeal, no matter how desperate things look. He takes the viewer on a journey unknown to many of us, but all the more universally human through his eyes. We root for him to get word to his family, and, yet, understand his trepidation and unwillingness to confide in those who may be able to assist him.
This is a powerful, important piece of art that I would encourage anyone to go see. It is the finest film I have seen thus far all year, and, while I realize there are many films yet to come over the next several months, I would not be surprised to hear its name mentioned come January 16 in a variety of categories.
12 Years a Slave opens in select theaters on October 18, 2013. A wider release has not yet been announced, but as award season closes in on us, you can be sure to be sick of hearing about it already.
Posted on October 18, 2013 at 10:52 by
Lyssa Spero
·
Permalink
In:
Movies
,
Reviews
· Tagged with:
12 Years a Slave
,
based on a true story
,
benedict cumberbatch
,
Chiwetel Ejiofor
,
historical drama
,
Michael Fassbender
,
Oscar contender
,
slavery
,
Solomor Northrop
,
Steve McQueen