Bryan Singer comes back to the School for Gifted Youngsters with Days of Future past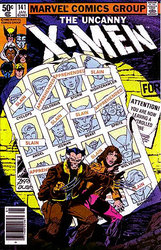 The man who arguably made the superhero film genre relevant again is returning to the fold.
According to Deadline, Fox has closed a deal for Bryan Singer, director of the first two X-Men films, to return to the franchise for X-Men: Days of Future Past. Originally slated to be directed by Matthew Vaughn as a sequel to his X-Men: First Class, Vaughn stepped down last week. Singer, already rumored to be on in a producing role, has quickly stepped up to helming duties.
Fox has a script ready for the film, which will presumably be at least partially based on the classic storyline (and why not? Dystopias are all the rage right now). The cast from the first film, including Michael Fassbender, James McAvoy and Jennifer Lawrence are set to return as well.
Posted on October 31, 2012 at 14:19 by Lincoln Eddy ·
Permalink
In:
Comics
,
Movies
,
News
· Tagged with:
Bryan Singer
,
James McAvoy
,
Jennifer Lawrence
,
Matthew Vaughn
,
Michael Fassbender
,
X-Men
,
X-Men: Days of Future Past
,
X-Men: First Class