Lincoln's Movie Night: ParaNorman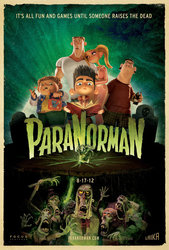 ParaNorman


Directed by Chris Butler, Sam Fell
Starring Kodi Smit-McPhee, Tucker Albrizzi, Anna Kendrick, Casey Affleck
Rated PG for scary action and images, thematic elements, some rude humor and language
Taking a kid to the movies can be a masochistic exercise. For every Wall-E and Pirates! there's a Madagascar-sequel and another Ice Age. But every now and then, something truly subversive, loving, touching and incredible comes along. And today, that is studio Laika's second film, ParaNorman.
Written by Chris Butler (Script Supervisor on Coraline) and directed by Butler with Sam Fell (The Tale of Despereaux, Flushed Away), the film starts out with a brilliant homage to old horror movies which introduces us to our lead, Norman, a misunderstood kid who just happens to be able to see ghosts. Bullied at school and pressured at home, he's an introvert who prefers to talk to the dead. His only friend is a fellow bullied student, chubby, happy Neil, who manages to bring Norman at least slightly out of his shell.
And then the dead start walking.
The town Norman lives in is a tourist trap, famous for three hundred years ago hanging an accused witch. And her curse is due this year. When Norman, assigned to stop it by his estranged uncle, fails, a corner of hell breaks loose on the town.
The movie is beautifully animated. The stop-motion animation, done so wonderfully by Laika with Coraline, is perfected here. Like that previous film, 3D is not just a gimmick, but feels like a necessary piece of the art. The puppets breathe and live in a wonderfully realized world. You want to explore each of the witch-themed shops Norman passes on his way to school. Each character, from zombies to gum-chewing break dancers, have definite personalities and small touches that could be watched over and over again, noticing something new each time.
The movie isn't a horror movie, exactly, but it wears the influence proudly for anyone to see. After a Halloween joke brings it forward, you'll notice that the score is synth-driven and owes quite a bit to those few notes that John Carpenter pounded out on a keyboard 30 years ago. The opening sequence, beautifully done, will bring you back to those nights as a kid, watching the movies you weren't allowed to at Grandma's house, and realizing only later how ridiculous and cheesy they were. Evil Dead, Frankenstein…they tip their hat to all of the classics.
Butler, with his script, has crafted something subversive and clever as hell. The movie is dark. While ostensibly a children's movie, there are moments that were creepy and frightening enough to feel as an adult. The culmination of the witch's curse is a brutal sequence that is genuinely scary and disturbing to watch. The movie also manages to have a powerful and timely moral aspect to it. With bullying and prejudice such a problem right now, ParaNorman goes straight to the heart of the matter, managing to be funny and clever about it without seeming too preachy. And a pre-credits punchline had my jaw hanging open with the sheer guts of it.
Overall, this isn't just the best animated movie of the summer, which it is. It's, simply put, one of the best movies that you'll see so far this year. Laika, Butler and Fell have turned the zombie and animated genres on their head and have put out something genuinely unique that has to be experienced in the theater.