Why Kickstarter Rocks!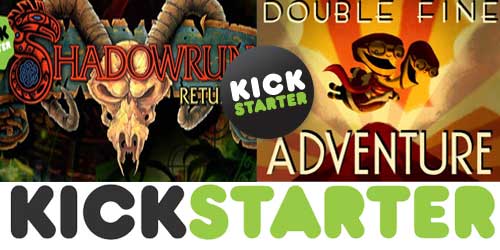 Kickstarter is a way to get projects funded, any project at all. All you have to do is set a goal say $5,000…$10,000…$50,000…$1,000,000…etc. (you get the picture) and anyone on the interwebs can fund your project. However, if your goal isn't met, then you have to start all over. But, that also means no one has to pay and you're not obligated to go ahead with the project, therefore being a good way to test ideas and even your elevator pitch.
Now you might ask, "Why is this so f*****n awesome for video games!?" Well first of all, watch your language. Putting an exclamation mark before a question point is not proper etiquette. Anywho, y'know how people are always talking about how fascist video game companies such as Electronic Arts, Activision, and Epic Games keep dishing out the same huge budget games year after year and taking everyone's money? Well, they're not the only game makers in town anymore. Your neighborhood budding game developer is now competition for them, and they're most likely going to have something more original and more wallet-friendly than the big guys. They might even throw in some neat freebies the more hefty your donation.
My personal interest in Kickstarter (ahem) began when I heard that famed Game Creator Tim Schafer was seeking funding for his next game, which would contribute to the rebirth of the Adventure genre (a genre that he helped raise to greatness a couple of decades ago). His goal was to raise $400,000. He reached that goal in 8 hours. In less than 24 hours he raised $1,000,000. The project at this time of writing is at $3,336,371 with 87,142 backers. That's pretty damn good for a man who has struggled before to get publishers to fund his unique visions.
My interest piqued further when I discovered that one of my favorite video games as a child, was looking to have a sequel. Shadowrun was a wonderful game that was basically Mass Effect for the Super Nintendo era. It was very much ahead of its time when it came to story, character development, exploration, and mature themes. Not to mention that there were dragons that were heads of corporations. It had a wonderful aesthetic, mixing cyberpunk with fantasy. Anyway, the guy who created the franchise finally won back the rights from the evil Microsoft. However, buying the rights for anything from Microsoft is bound to leave someone mighty broke. So he needed money, and therefore turned to Kickstarter. Now he, and his team, have reached $1,836,447 and 36,276 backers (including muah). The game should be coming to a PC or iPad near you sometime next year. A game that would have never been made at all if it weren't for Kickstarter.
Those are just two examples of games that have been successfully funded by Kickstarter. But this little website has ignited a whole bunch of hope within an industry that has been teetering on going stale. I remember reading years ago, whilst in college, that the indie film scene blasted off with the invention of the camcorder. With that invention, it was possible for anyone to make a movie. Now, the video game industry has yet to find its answer to the camcorder. However, tools such as Kickstarter bring us closer, since we no longer need millionaires in order to create, fund, and distribute a video game.
References: