Blightyvision: "Top Gear" Series 18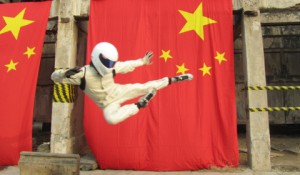 Presented by Jeremy Clarkson, Richard Hammond, and James May
Featuring The Stig
Is there ever a year when things go calmly for the "Top Gear" boys?  It seems that, whenever you turn around, one of them has said something that's managed to land them in hot water with viewers or foreign dignitaries or the BBC itself.  Well, in this case, both Jeremy and Richard had managed to get themselves relatively disliked beforehand — to the point that Jeremy's episode of "QI" this past series was pulled just in case his mere presence offended people.  Once a new series of "Top Gear" starts, though, things tend to fall by the wayside as we watch them blow up cars and fight with each other.
And much as "Doctor Who" has its Christmas specials, "Top Gear" now has its road trips pretty much without fail.  This series kicks off with a trip to India which, while still full of the usual mad antics, does keep in line much more with recent years' promise to move away from the "characters" they've developed and just let the guys be themselves.  The trip was theoretically to improve economic relations between Britain and India (as much as any of their trips ever focuses on its good intentions).  Yes, cars get painted and people get left behind and awkward (very possibly staged) things happen in front of locals.  But the ending of this special in particular is rather sweet, and it's a nice reminder of when the show is perfectly happy to just pause for the good things in life — not just car-related ones.
The series as a whole this year?  Well, the various challenges and feature segments take them all over the place — Texas for an education in NASCAR, China to learn about their growing car industry, and Florida on a trip to learn about hybrids that turns into a drag race with AC/DC's Brian Johnson.  There's always been a fair bit of globetrotting in the past, yes, but there was a lot more by way of "mini road trips" this series.  Perhaps with a little time having elapsed since the "Top Gear" world tour (which completely ignored the US, sadly), they've developed a bit more of a world view when it comes to their week-to-week content.
That especially shows in their choice of stars to put in their Reasonably-Priced Car (still the Kia Cee-apostrophe-d).  There have been international guests before, both from the racing world and the entertainment world.  But this year?  Try Ryan Reynolds, Michael Fassbender, Matt LeBlanc, and … well, the final-episode guest is a doozy.  Let's just say that having Matt Smith in the Car was not their one and only big draw.
One doesn't expect "Top Gear" to make major changes year-to-year.  One just sort of generally expects it to stay good (if one likes it in the first place).  But this series, it almost felt like there was a sort of thematic expansion.  I remember Jeremy talking about big Hollywood celebrities on their "little car show" a while back — a silly-seeming thing to say when tickets are drawn by lottery from a massive reserve list — but it seems that by becoming a bit more self-aware they're expanding their sights.  What does this mean by way of future challenges and future guests?  Anything and everything, most likely.
Series 18 of "Top Gear" will air on BBC America starting April 16 at 8/7 c.  Or you can always check out Tumblr for massive amounts of gifs chronicling Michael Fassbender's lap.