Nicolas Cage not playing Nicolas Cage in Action No. 1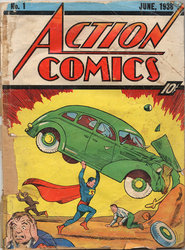 As long as they have a set of properly zany wigs showcased, I'll be ok.
According to The Hollywood Reporter, Lionsgate has purchased Action No. 1, a heist movie about nerds who decide to steal Nicolas Cage's copy of Action Comics No. 1. While fiction, the film is based on actual events, as Cage had his copy of the comic (featuring the first appearance of Superman) stolen back in 2000. It was recovered last year, found in a storage locker, and Cage went on to sell it at auction for 2.1 million.
The film would be a comedy written by the creators of Reno 911!, Thomas Lennon and Robert Ben Garant. While the part of Cage was written with Cage in mind, he will reportedly not be playing himself. And as awesome as it would be, Jason Statham, whose name was in some way connected to the project, is not involved either.