Blightyvision: "Catherine Tate: Laughing at the Noughties"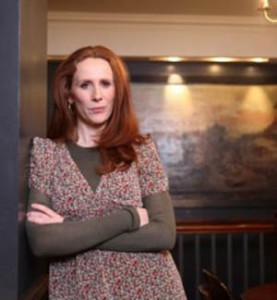 Presented by Catherine Tate
Directed by Richard Dean and Mark Jones
People who are casual Britcom watchers don't necessarily grasp the fact that UK comedy is an ever-evolving creature.  Much like American comedy (and possibly even more so), it changes with regards to political climate, societal divides, and — more often than not — itself.  And it's hard to speak of a "golden age" of British comedy, not because it's all gold, but because it reinvents itself so often.
So while at first glance "Laughing at the Noughties" may seem like it could be a very basic and biased retrospective, in point of fact it's a fairly in-depth look not at what was there, but more why it was there.  Catherine Tate, who went from Edinburgh Festival hopeful to international TV star within said decade, hosts the 90-minute Channel 4 special, covering everything from sitcoms to stand-up to chat shows.
Yes, that's a major thing to note: when I say it covers everything, I don't mean literally every show (I was sad to see a few of my favorites not making the list) … but I do mean every style. And every sort of taste.  And that's what made "Laughing at the Noughties" rough from a fan standpoint.  Because this isn't a work of adoring geekery like "Japanorama" or "A History of Horror."  Which is not to say that Catherine Tate doesn't know and love her stuff.  But it's not something to sit down and watch as an excuse to hear someone gush about things you enjoy.
The documentary has its moments of subjectivity, but they are few and far between — the sort of viewer you are will dictate whether that's a good or bad thing.  It's a study, really, and a comprehensive one.  The Noughties were a time of political and social stress, and the entertainment industry reacted accordingly.  Thus, as Tate lays out flat for us, a lot of what we're looking at is "uncomfortable" or "cringeworthy" humor.  Which is not to say that the shows here are bad or depicted as such … but the overview is understanding rather than lovey, and if a show was particularly difficult to watch, you're told how and why.  And then invited to watch it.
For me, this was fantastic, because the evolution of comedy is of particular interest to me.  This falls into the "I could so write a paper on this" arena of viewing, because it's just that observant.  That did mean, though, that I was confronted with a lot of shows about which I was apathetic, or which I disliked actively.  I'm sure it'll be the same for any viewer, simply because of the spread of things they cover.
Overall, the best thing about "Laughing at the Noughties" is the wide array of interviews, and the fact that they aren't just speaking to comedians.  Writers and directors are thrown into the mix, with their own observations on why things "worked" during any given year.
In a weird way, I suppose one of the reasons I liked "Laughing at the Noughties" as much as I did, in spite of it covering a fair number of things I don't actually care about, is the fact that it never pretends to be anything but straight-up educational.  As I said, it's a study.  There were moments when I wondered why a certain show wasn't considered important or innovative enough to warrant a nod, but the ones that were mentioned were there with good reason.  I came away feeling educated, and with a new appreciation behind, if not certain performers themselves, then at least their motivations.
Thus … if you're here to find out about shows you like specifically, this may not be the show for you, even if something off your personal list does show up in the mix.  All that said, it really is fascinating, and Catherine Tate's enthusiasm about the subject matter (as well as her good sense of humor and her chattiness with the interviewees) makes for a pleasant watch even in the midst of being told about "unpleasant" comedy.  At 90 minutes total, it's good for a casual afternoon's viewing, provided you can find it.
Just be sure to take notes.  There'll be a quiz later.
"Catherine Tate: Laughing at the Noughties" contains coarse language and subject matter, although a few scenes were still censored or deleted entirely — which, considering this was shown on Channel 4, makes you wonder just how bad that stuff was.