Blightyvision: "A History of Horror with Mark Gatiss"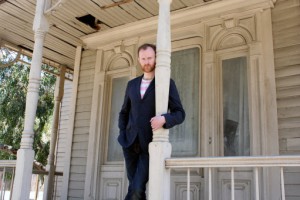 Written and presented by Mark Gatiss
Directed by John Das
There are very few things more fun to see on television than a celeb geeking out about their personal fandoms, and the UK's short-series documentaries give us plenty of opportunity to see that.  Mark Gatiss is one of the more recent participants in this style of show; and in this case, it's an unapologetically fannish look at the history of horror films, from the 1925 silent film The Phantom of the Opera to Halloween. We're warned up-front that it's selective — not comprehensive so much as touching on what Gatiss personally likes and considers important — and yet his self-professedly biased examination still gives us a good look at the evolution of the genre in film.
If you're a fan of Gatiss, even if you're only familiar with his recent work for "Doctor Who" and "Sherlock," you won't be surprised by his lifelong obsession with horror.  His morbid and macabre writing style has made that very clear over the years, and "A History of Horror" is sprinkled with personal anecdotes concerning his own experiences with the films he examines.  A good portion of it is hero-worship, but of the best and most enviable kind: at one point, he gets a hands-on tour of Lon Chaney's makeup box.  He approaches everything, even the unfortunate decline of Hammer films into oversexualized moneymakers, with a fondness that is neither apologetic nor overly fannish (as he seemed to assume it would be).  Yes, he is selective and his selections are telling, but they're still educational, and his choices mark him clearly as an educated fan.
The series is divided up into three eras: the early years (from silent films to Hammer at its best), the middling and occasionally financially suffering years of more gothic horror, and the Hollywood horror boom from the 1970s forward.  All three begin with a basic veneer of what just about every viewer will know, then delves into interviews and more specific information.  One of the great things about the deeper analysis is that it doesn't shy away from the less "artistic" side of things: if the caliber and style of movie changed mostly because of financial issues, it's addressed and not shied away from.  In its own way, that makes many segments a bit more tragic, when you realize just how far down a genre can fall because of money woes.
I'm a fan of much older horror — the first episode's subject matter — but found myself enlightened by the whole thing.  It's even made me search out some things I'd never heard of, and I've probably set myself up for a few gruesome nights' viewing.  I do feel like I've learned a fair bit just from the one viewing, and regardless of how much you know, there's more to learn.
However.
If you are a fan of new slasher flicks, contemporary horror, and the like — American-made, at least — you may not like Gatiss's opinions concerning these.  He makes his dislikes just as known as his likes, and he has no trouble making his disappointment with the state of the genre known.  Thus, his summation ends round-about Halloween. He does drop mention of Japan and Spain's contributions in recent years, but sadly, time constraints prevent any actual looks into them.  I've heard a rumor that he may do a second series looking into these, but it's just that — a rumor.
If you can get hold of it, "A History of Horror" is a good afternoon's mini-marathon.  The interviews with the likes of George Romero and John Carpenter alone would make it worthwhile.  As a whole, it's a really nice blend of nostalgia and very real, very useful information.  And seeing Gatiss grinning like a fanboy during his interviews is pretty great, too.
"A History of Horror with Mark Gatiss" includes depictions of venereal parasites, lesbian vampires, and Patrick Troughton getting impaled on a spike.  If you know what all those are in reference to, this is likely you're kind of show.