"Mighty Boosh" movie in the works.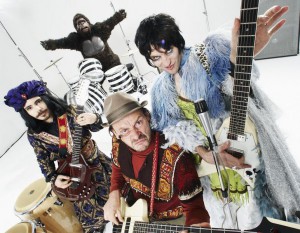 Think you can handle Howard Moon and Vince Noir on the big screen?  Noel Fielding has faith in your abilities.
Metro has just dropped the news that Fielding and collaborator Julian Barratt are teaming up to make a "Mighty Boosh" film.  There's no word on what it will be about –then again, "Boosh" is not particularly known for making sense in the first place.
The two apparently came to their decision whilst going sledging together, thus Fielding said at the very least "There'll definitely be sledging in the Boosh film, there'll have to be won't there?"
Besides their three-series TV show, "The Mighty Boosh" has also appeared in the form of three stage shows, two UK tours, a radio series, a compilation book, and a music festival.  At this point, all they'll need is a graphic novel series and a video game or two to make their media conquest complete.