Saga, Brian K. Vaughn's return to comics coming next month; Star Wars artist misses the point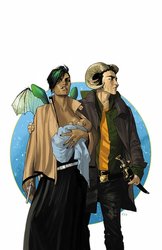 Brian K. Vaughn's Y: The Last Man is a modern classic. A high point in recent comics history, it told a beautiful, difficult and touching story. Since it ended, there hasn't been much going on with him. But finally, we've gotten a look at his return to the medium (illustrated by Fiona Staples!) and it looks like it is going to be epic.
Saga is a space opera with a strange focus. The first issue, coming on March 14, starts with a quite literal birth. From what can be gleaned from interviews, our two main characters are on opposite sides in a galactic civil war but fell in love anyway and decided to go on the run from their responsibilities.
The comic has been described as Game of Thrones meets Star Wars. And it seems like Star Wars artist Dave Dorman was offended by what he somehow thought was a family friendly book. Seems he was excited to share this space saga with his young son until realizing, god help him, that one of the main characters dared to breastfeed on the cover.
I find this image offensive, not only for promotion of a comic book, but specifically for a comic that Brian clearly states that he would like to see today's younger generation pick up and read as he did when he was kid. Rather than a family-friendly heroic saga, this promo art is telegraphing to the world that it's a series I cannot share with my 7-year-old son.
To anyone familiar with Vaughn, it's fairly obvious that this would in no way be a family-oriented book. But what's most disconcerting is that the breastfeeding wars have come to comic books.
Come on. Really?
Saga begins with a 44 page special ($2.99) on March 14, 2012 and is written by Brian K. Vaughn and illustrated by Fiona Staples.