Blightyvision Special: "Much Ado About Nothing"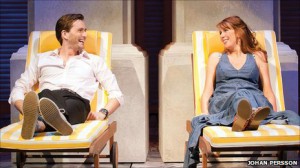 Starring David Tennant and Catherine Tate
Directed by Josie Rourke
Theatre, especially London theatre, is such a mess when it comes to seeing (or rather not seeing) performances.  It's not like movies, where time and money and intention will get you to it at some point.  You can have the time and location and finances and still just be unlucky (a friend and I were ten people away from the last Frankenstein tickets in London last spring).  Maybe you're lucky and someone like Fathom will do a showing, but overall unless it's seen as good PBS "Great Performances" fodder you will not have another chance.
And that's why Digital Theatre are such clever people.  For about the price of a DVD, you can get a high-def download of any of a number of stage shows — mostly Shakespearean in nature.  Their big seller right now?  The much-hyped Tennant/Tate production of Much Ado About Nothing, the stuff of much fannish tooth-gnashing and "Why can't I live in England"-ing.  It's a high-quality recording of a live performance, shot up close and personal, and for quality alone it's worth every penny.
All right, some of you may not actually remember the story from high school English class, so here.  The cast is headed up by two couples: the argumentative Benedick (Tennant) and Beatrice (Tate), and the very much in love Hero and Claudio (Sarah MacRae and Tom Bateman, both in their West End debuts).  During the nuptials of the latter two, both pairs are duped by the surrounding cast — Benedick and Beatrice into loving each other, and Claudio into rejecting Hero for believing her to be disloyal to him.  As it's a Shakespearean comedy, wacky hijinks ensue, but in the end all the right people end up happy and all the wrong ones vanish into the night and are promptly forgotten about.
This modern restaging of Much Ado makes no effort to be overly socially relevant.  It's clearly set in the here-and-now but, other than the conversion of a few of the Bard's verses into club bangers, there aren't any forced modern cultural references.  The acting and staging are completely contemporary, though, and the whole thing is delivered with a sort of goofy rom-com ease that tends to be lacking in a lot of other modern Shakespearean performances.  It doesn't feel like stuffy Theatre-with-a-capital-T, nor does it feel awkward like trying to set Romeo & Juliet in a Catholic school with four actresses playing the various aspects of Juliet's personality.*  It's fun no matter who you are, and the actors don't struggle with preserving iambic pentameter or speaking in lofty tones.
If you've ready enough of my reviews, you know my feelings on David Tennant: he's an excellent actor and a force to be reckoned with, but he doesn't usually share a stage well.  Here, though, he does.  He pulls back his "stage storm" and channels it into the broad comedy aspect of his role, so that even his dramatic turn late in the show is on the subtle, stolid side.  He is actually amazingly good and delightful at comedy delivery, including and especially the slapstick scenes (he and paint don't seem to get along).  We already know that Catherine Tate handles the same wonderfully, and it's fun to see her return to more extreme physical comedy at points throughout the show.  The pair of them really do balance each other out, and watching Much Ado solely to see them is a perfectly legitimate move.
However, the rest of the cast is nothing to be sneezed at.  MacRae and Bateman have a great deal more drama to deal with, and for a pair out on their first outing, they do an admirable job of it.  Elliot Levey (of "Hotel Babylon") is impressively slimy as Don John, the mastermind behind Hero and Claudio's rift.  Perfectly awesome, though, is John Ramm as Dogberry — though if you can't have fun as Dogberry, something is seriously wrong with you.
This version of Much Ado is very well-balanced, bright, loud, silly, and fun.  It's also one of the few shows I've watched recently where I've had to pause the video just to stop and think about how cool it was.  David Tennant and Catherine Tate really just shine, and you can see their chemistry and ability to just have fun.  But the scenes without them aren't slow or boring, either; they may be the headliners, but everyone has merit and it's a strong, tight cast.  I bought the HD version of the video (all their videos require a special player and are keyed to work only with a certain person's player, so no burning or sharing), and it was very good picture quality even on fullscreen and played without glitches.  Skipping around in the video within the player didn't work so well, so individual scenes were tough to get to, but that's my only quibble with the video or the player.
All that said, it's worth your money: £6.99 for an online rental, £8.99 for regular-quality, or £10.99 for the (well worth it) HD version.  As it's downloadable, they do take international orders with no trouble.  In short, if you want it — and you likely do — you have every opportunity to get it legitimately, and legitimately good.  Who knows … if it gets enough downloads, maybe they'll put out a proper physical DVD.
Digital downloads of Much Ado About Nothing are available at DigitalTheatre.com, along with a whole bunch more Shakespeare, some things you've never heard of, and something about Kafka's monkey.  Which I'm sure is delightful because, hey, monkeys.
* This happened at my college.