Blightyvision: "Treasure Island"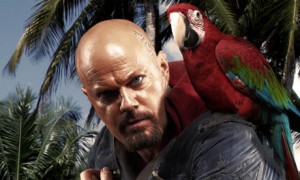 Directed by Steve Barron
Adapted by Stewart Harcourt
Starring Eddie Izzard, Toby Regbo and Rupert Penry-Jones
If you had told College Me that Eddie Izzard would someday be killing it in a serious period drama, my response would likely have been "Right, and next you'll be telling me that North kid will actually survive as a grown-up actor."  Well, to be fair, I would have found the latter mildly more believable.  But over the years, Izzard has been stepping out into more mainstream dramatic roles — such as "The Riches," struck down in its prime as it was — to the point where hearing he was playing Long John Silver wasn't a shocker so much as a pleasant surprise.
This new version of Treasure Island, billed during its inception as family fare, was Sky 1's holiday offering, and featured an impressive cast that just grew more impressive during the span of slow-release casting news last year.  Daniel Mays (of "Ashes to Ashes" and recently the Doctor Who episode "Night Terrors") appears as Dr. Livesey, Philip Glenister as Captain Smollett, and the afore-referenced Elijah Wood is Ben Gunn.  Just to name three.
As with a lot of new-new-new adaptations of classics already made into films in the past, this two-part miniseries is not afraid to go both grittier and truer to the original story.  Its "family" billing is clearly by British "kids can handle this" standards.  As for loyalty to the source, this version mentions Silver's wife (here named Alibe and played by Nina Sosanya of "Casanova"), who has never made an appearance in any previous versions.  Also, with a much longer form to work with, there's a lot less trimming to do.
The heavy-hitter cast does not disappoint.  Wood plays the best kind of crazy as the religion- and cheese-obsessed castaway Ben Gunn, and it's a pity that his role in the book meant he only got an outing in the second half.  Young Toby Regbo plays an admirable Jim Hawkins without being too wide-eyed or innocent, and Mays as Dr. Livesey lets "Ashes" fans see him take another go in a sympathetic role.  It was also nice to see Shirley Henderson (as Meg Hawkins) stepping outside fandom's perception of her as incurably young to play a strong mother figure opposite Sosanya as Alibe (who, fortunately, had a decent chunk of screen time).
The two real killers of the cast, though, were easily Glenister and Izzard, and one of the great pleasures of Treasure Island is seeing them engaging in extreme acting opposite each other.  The former, whose recent roles seem to entail him unbuttoning his shirt in warm sunny places, has always done well in period dramas, and people who know him for nothing other than Gene Hunt will get to see a very different side of him.  Yes, Smollett does begin a bit Hunt-esque, but that melts away quickly.  And Izzard — I'm hard pressed to find adequate words.  As a comedian he's always been rather endearing in a pleasant, scatterbrained sort of way.  But in drama, somehow he seems to excel at characters who are simultaneously untrustworthy and subversively likable.  Silver is one hell of a physical transformation for him, so even if somewhere within you there's a bit of difficulty separating yourself from his other roles (or himself), the tattoos and shaved head should drive it home.  As well as that really fierce coat.
There are two big reasons to consider watching this version of Treasure Island: either because you love the story, or because you love the cast.  Either of those alone is enough reason to watch, as it's an admirable adaptation and shows everyone at their best.  If you're a regular reader, I can assume that you're familiar with a bare minimum of three of the featured cast.  In which case … provided you can get your hands on it … give it a watch.  Sky 1 has done Region 1 releases of its Discworld adaptations, so if there's enough demand we may see this stateside.
At the very least, it'd be something cool to show a high school English class during their last week before summer vacation.
This adaptation of Treasure Island also features Donald Sutherland as himself, if he were a crazy old pirate.  So, well …