Blightyvision: Doctor Who: "The Doctor, the Widow, and the Wardrobe"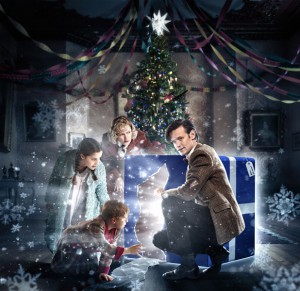 Written by Steven Moffat
Directed by Farren Blackburn
Starring Matt Smith, Claire Skinner, and Bill Bailey
Even fans who are completely anti-Moff-era have admitted that, yes, under his supervision the Christmas specials have become more Christmasy.  With only one or two notable exceptions, they've tended to be off in their own little world, but after "The Christmas Invasion" there was nothing that truly screamed holiday-ness.  After a while, it became a bit of a joke: Christmas is the season of the world almost getting destroyed.  Which is not to say I didn't enjoy the hell out of "The Next Doctor" and the like, but this year and last have truly been a notable — and comfortably pleasant — change in the Doctor Who way of doing things.
As with last year's "A Christmas Carol," the setup comes directly from an existing story.  In this case, a wartime family go to a house in the country tended by a crazy old man, where they are transported via a magical doorway into a snowy fantasy land populated with creepy creatures and then bad bad things happen.  But as with all things Whovian, the fantastical is actually alien, and the bad bad things could have much further-reaching consequences.  Without giving too much away, I can say that there is a tree theme … a very heavy tree theme … and the Doctor has mentioned before that there's no "wood" setting on his sonic screwdriver.
Like last year, Matt Smith seems to have a little extra "oomph" to his performance.  He gets to exercise his Doctor's desire to be liked by humans and do nice things for them (there is an over-the-top yet delightful montage upon the Arwells first arriving at the Doctor's "home").  In particular, we see one of his true strengths as an actor and a character: he is really good with kids.  There aren't many Doctors — mostly classic-series ones, in fact — whom you could imagine having children as companions.  Which is not to say he can't bring the serious when he needs to, but the series proper is a much better outlet for that.
In this case, every performance is strong, and that has a lot to do with the fact that time was taken to give even the minor characters some fantastic lines.  Claire Skinner as Madge Arwell (the titular widow) brings an oddly bipolar but simultaneously strong performance, and Maurice Cole and Holly Earl as her children Cyril and Lily could easily hold their own in Narnia.  Meanwhile, Bill Bailey (and his cohorts, played by Arabella Weir and Paul Bazely) get some wonderful moments of comic relief and some of the best, Moff-iest lines in the show.
Complaints?  Well, I'm here as a reviewer and not a defensive fangirl, so yes, I have one major one, being a pet peeve of mine — removal of consequences.  From a writing standpoint, I'm of the belief that if something happens, it shouldn't be changed for the sake of an ending.  However … it's Christmas. And the Christmas specials act outside the regular laws of Doctor Who, where people leave and the Doctor can't necessarily fix everything. Were it an episode within the series proper, I would flag it down for that.  As a special?  As a holiday event?  As the follow-up to a story where sharks flew just because flying sharks are cool?  I can't hate.  Anything can happen, and anything should happen.
And finally, for my family's question: can you watch it alone?  Sure.  There's a bit at the end that ties in to the end of the most recent series, but that's mostly a heartwarming little moment for the fans.  You can watch this on its own and understand things relatively quickly.  In other words, yes, you can watch it with your parents or your cousins or your in-laws even if they's unfamiliar with Doctor Who. Well, the aliens and future-tech in the middle of a quasi-Narnia might throw them, but they'll adjust. Surely.
"The Doctor, the Widow, and the Wardrobe" is up to watch streaming for rather cheap, and available for pre-order on both Blu-ray and DVD.  Not suitable for those suffering from dendrophobia, chionophobia, or whatever a phobia of Christmas is called.