Blightyvision: "Death in Paradise"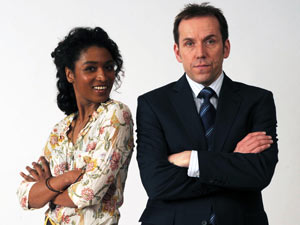 Created by Robert Thorogood
Starring Ben Miller, Sara Martins, and Danny John-Jules
I kept an ear to the ground (or, rather, to the Twitter) when it came to "Death in Paradise."  Reviews from individual viewers were mixed.  Some enjoyed it, some were apathetic, and others believed it was not "thrilling" or "mysterious" enough.  It struck me very early on as one of those unfortunate mis-advertised series, where it won't matter how good it is if people were attracted to it via a set of misleading commercials.
So, I will sum it up for you, more accurately than any of the actual advertisers did, in less than ten words:
She's French. He's Ben Miller. Together, they fight crime.
"Death in Paradise" was never meant to be thrilling, dark, horrifying, or anything other than a character-driven piece.  At the outset, it's basically an eight-episode-long laugh at the expense of Richard Poole (Miller), a stuffy Metropolitan DI transferred to the island of Saint-Marie.  But rather than enjoying his time in the Caribbean, he longs for cold British weather, pubs, proper food, and anyplace that isn't hot and sandy. From there, it becomes a fish-out-of-water detective series (think "Life on Mars" or "The Sweeney") with episodes that are a mix of crime-of-the-week and primary cast interaction.
There isn't really a running heavy metaplot, though, beyond Poole wanting to go home and his Saint-Marie team wanting him to stay after warming to him unexpectedly.  And this could be part of the viewers' issues with the show.  We've grown to expect shows we can't watch out of order, and the BBC have been moving in and out of a mindset where everything they do has to be innovative in order to keep up with American TV imports.  "Death in Paradise" isn't a deconstruction or a divergence — it has its gimmick and it rides it.
The linchpin is Miller as Poole, not unexpectedly.  The role is tailor-made for him, and he treads carefully around the proper English stereotype without ever becoming flat-out goofy in the odd situations he encounters.  It could have been very easy for him to be played as entertaining but ultimately unlikable, but there is a little sympathetic spark in him that brings out the "bless his heart" reaction in the viewer.  It doesn't hurt that this show isn't a study in the outsider being put in his place, either — Poole is incredibly clever, and ultimately the end-of-episode reveal is his.
Martins as his partner, Camille Bordey, is pretty much the sort of foil you have to put against a character like Poole.  There's a great deal of "because you're English/French" bickering going on between them, and it occasionally moves very close to being a bit too annoying.  For the most part, though, the writers manage to avoid the trap of making the female lead masculine rather than strong, as well as the trap of making them an item.  I could be in the minority, but I never once got an "Oh, just get a room already" vibe watching them — which would have been fairly tiresome.  It's clear they're friends (albeit reluctant ones) without any sexual tension getting in the way.
I was, however, disappointed that we were offered a look at two really great secondary characters on the team — Fidel (Gary Carr) and Dwayne (Danny John-Jules) — and then never got quite as much of a look at them as would have been fair.  John-Jules, especially, deserved a bit more screen-time, and even the episode theoretically centered on him drifted away from him as it went on.
I've been trying to think whether "Death in Paradise" could survive a second series, and to be honest, I'm not sure.  I wouldn't mind watching more like this, provided the writers can keep coming up with interesting weekly mysteries to support the action.  But more episodes could be a double-edged sword.  On the one hand, it might offer more screen time to neglected characters; on the other, it runs the risk of feeling the need to fix the stuff that ain't broke in order to "keep things fresh."  If the writers are clever enough to avoid that pifall, a second series could be entertaining.
Well, entertaining to us.  Not to Poole.
Yes, "Red Dwarf" fans, you read right — Danny John-Jules really does play a character named Dwayne.