Blightyvision: "ShakespeaRe-Told"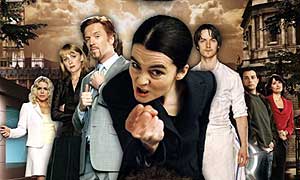 Directed by Mark Brozel, Ed Fraiman, Brian Percival, and David Richards
Starring James McAvoy, Keeley Hawes, Billie Piper, Shirley Henderson, and David Mitchell
There's only one area where I don't try frantically to skip through DVD previews, and that's on BBC releases.  Why?  Because if you sit and watch, you'll see a dozen shows you've never heard of, and each show will have at least three people each whom you have heard of.  I saw the trailer for "ShakespeaRe-Told" (a capitalization technique that will haunt me for the rest of this review) at the beginning of a later "Jonathan Creek" DVD, and it was so loaded with familiar faces that I couldn't not hunt it down.
When I say the show is a collection of four modernized Shakespeare plays, that probably doesn't help you at all.  Just about any Shakespearean adaptation today is modernized in some form.  The thing here though is — with the very occasional one-line exception — these versions don't actually use the original text.  They aren't restaging the shows; they're straight-up reworking them, putting them into a proper modern context instead of just altering the sets and costumes.  Kind of an iffy decision, especially if you're a Shakespeare purist.  But I'm not, and to that end perhaps, I liked them.
The four plays treated are Much Ado About Nothing, Macbeth, The Taming of the Shrew, and A Midsummer Night's Dream. Each is its own work, with its own directors and cast and no actual through-line, meaning you can watch them individually or out of order as you please.  I can say up-front that yes, they're all worth a watch, all with decidedly different feels to them.  And given as they're independent pieces, it's clear that they were able to focus on getting the best cast for the job.  Because, overall, they did.
Don't expect to see high Shakespearean performances here, and don't look for accuracy — "Much Ado" is about news anchors, "Macbeth" now takes place in a one-off of Hell's Kitchen, "The Taming of the Shrew"s shrew is an MP, and … well, all right, "Dream" is still about fairies, but that's a given.  However, the changes in setting work in a modern context.  These pick up the bits and pieces that often get lost in translation, and make the stories as topical and trend-riding as the original works were.  (Remember, after all, Shakespeare wrote what was ultimately very formulaic stuff aimed at the penny seats.)
There's no bad acting in any of these, and all of the casting is good, but some of it is utterly inspired.  Keeley Hawes (Alex Drake of "Ashes to Ashes") makes a properly strong and powerful Lady M opposite McAvoy (prior to becoming the young Charles Xavier) as frantic and angry chef Joe Macbeth, trying to defend his standing in his own award-winning kitchen.  Strung-out comedian Johnny Vegas makes a perfect Bottom — just get the innuendo out of your system now.  And Billie Piper as Hero reminds me, yet again, that she survives quite well as an actress outside of the TARDIS.
But the two best performances in the whole thing belong to Shirley Henderson (of the Doctor Who episode "Love & Monsters" and the Harry Potter movies) as Kate in "The Taming of the Shrew," and Rufus Sewell as her boisterous cross-dressing Petruchio.  Writer Sally Wainwright even manages to update the rather iffy theme into something that keeps the humor of the original while being, to be honest, a lot healthier in its outlook on men and women in relationships.
I tend to be a lot looser in my impression of Shakespeare's works than a lot of people, so I honestly can't say whether or not one's mileage will vary with regards to "ShakespeaRe-Told."  People who cling to the works from a traditional standpoint may well be as turned off to it as, say, I am by what happened to the film adaptation of The Dark Is Rising. From where I'm standing, though, it's entertaining both by way of the stories themselves and as a look at how the tone of the originals would have struck the audiences of the time.  If you recognize even one actor in it, I recommend it, because this shows a lot of them at their best or near-best.
"ShakespeaRe-Told" is readily available on Netflix streaming for your viewing pleasure.  Sadly, there don't seem to be any plans to continue making Shakespearean adaptations in this format — it would have been cool to see "Romeo & Juliet" done in a Catholic school with Juliet played by four girls to symbolize her various motivations and … oh, wait, no, that's what my college's Shakespeare club did.