Blightyvision: "Horrible Histories"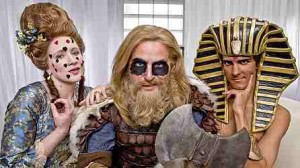 Directed by Steve Connelly, Chloe Thomas, and Dominic Brigstocke
Written and created by Terry Deary
Starring Mathew Baynton, Simon Farnaby, and Ben Willbond
Have I mentioned how much I love British children's television?  I'm sure I must have.  The educational stuff reminds me vaguely of things like "3-2-1 Contact" and "Square One" over here, which oftentimes felt more than anything like a sketch show where you happened to learn things.  When one of my sources recommended "Horrible Histories" to me, I had a look at a few clips online and didn't hesitate — this looked like exactly the sort of thing I'm talking about.  And, dang, I was right.
"Horrible Histories" is based on a popular series of young adult books by Terry Deary, detailing bizarre events and practices that (unless you watch a lot of "QI" or they're touching on one of your realms of geekdom) you've likely never heard about.  And, as this is meant to hold the attention of the younger set, much of the material tends to veer toward anything involving uses for urine and animal feces.
Sound insufferable?  It's really not.
While segments with titles like "Vile Victorians" and "Measly Middle Ages" do jump right for the "ewwww" factor more often than not, it isn't the backbone of the show.  (And, for that matter, it's not as though they're lying.)  The whole thing is pervaded by a sort of "Blackadder"-ish sense of humor, appropriately enough, and the facts they present are so odd on their own that the laughs they throw in aren't cheap ones.  A lot of their segments are parodies of shows like "Ready Steady Cook" and "Gok's Fashion Fix," with stand-alone skits and the occasional song thrown in.  Segment intros are done as animation with voice-over, as are any bits that would be too complex to stage.
If I have one quibble with the show, it's that their facts can occasionally be off.  (For example, according to a classics major friend, Nero only ever used Christians as candles once, and they'll cut the occasional corner when it comes to keeping skits or songs short.)  But considering this isn't a show anyone's gonna be using as a source for a term paper, it hardly matters.  They're on almost all the time, and they'll even pop little notes up on the screen to let you know which bits of a skit are true and which are just them being silly.
Some of their skits can be a bit hit-or-miss quality-wise, but their recurring skits tend to be good as a rule — such as "Stupid Deaths," featuring regular Simon Farnaby as a long-haired Grim Reaper collecting Darwin-Award-worthy stories, and a series of fairy tales adapted to fit various historical eras, as read by Meera Syal of "Jekyll" and "Goodness Gracious Me."  By the time I reached this past summer's series, though, I noticed that the writing and performances were all better. They were never bad before, but it almost felt like a level-up, and while I enjoyed the first two series, I loved the third one.
If you've heard the name of the show before, you're likely thinking, "Wait, why hasn't she mentioned Stephen Fry yet?"  Yes, a lot of people (myself included) only discovered this show via its spin-off series, "Horrible Histories with Stephen Fry."  Whereas the series proper is hosted by a vaguely unsettling rat puppet, the one hosted by Fry is a sort of "Greatest Hits" collection featuring material from the first two series.  Having seen both formats, I'd recommend the latter to anyone who finds themselves shorter on viewing time, as it gets right on to the good stuff and, well, has an awesome host.
Simply put, it's fun.  I started out watching it out of curiosity, and ended up keeping to it for the comedy.  A good number of the cast come from other sketch comedy shows, and Deary himself is one of the performers.  It's good for a laugh, and can be watched randomly and out of order as you please.  You will, however, discover before long that you've learned the names of all the British monarchs — once you get their damn "Kings and Queens" song stuck in your head at 3 AM.  "William, William, Henry, Stephen, Henry, Richard, John …"
"Horrible Histories" is not available on Region 1 DVD, nor has it received any US air time.  Many gracious YouTube users have uploaded a good number of the skits if you'd like a taste of what's out there, but I suppose people don't think American kids are ready to hear about Roman poo salesmen.