Blightyvision: "Japanorama"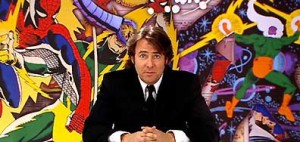 Created by Hotsauce TV
Hosted by Jonathan Ross
I've rarely had to justify my Anglophilia to anyone, probably for good reason.  It's hard to question the general output of the country that gave us Shakespeare, Stephen Fry, and Jaffa cakes.  It is, however, difficult for me to explain to my family my affection for Japan — which has given us Hannibal Lecter Kewpie dolls, panty vending machines, and whatever the hell this is.  And most shows that address Japanese culture tend to talk primarily about shrines and then devote five minutes somewhere in the middle to goth lolitas.
It just so happens, however, that my two major philias collided a few years ago in the form of "Japanorama," an eighteen-episode documentary hosted by TV personality Jonathan Ross.  Wossy is a hardcore otaku, it seems, and decided to express his love for Japan by making a TV show that actually knows what it's talking about.  With loose weekly themes such as "Kaidan" (Horror), "Kawaii" (Cute), and "Densetsu" (Legends), the show covers different themes and trends as seen via popular anime and manga, public figures, and social practices.
Ross does definitely take a fanboy's perspective, with a lot of focus on entertainment.  Some interviews and short pieces are shot in a small room in Tokyo decked out with all manner of action figures (resulting in, at least in the case of myself and my friends, a few rounds of "Name That Toy").  He learns para para moves, visits a maid cafe, and spends a respectable number of episodes cosplaying as Robot Detective K.  In the second and third series, he recruits cosplay personality Yunmao Ayakawa to teach the audience Japanese vocabulary, test out various geeky gadgets, and generally be adorable next to her 6'1″ gaijin cohort.
What really makes "Japanorama" different, though, is that it covers that. You know when you watch a show about a subject you know fairly well, a show that claims to be informative and in-depth, and you inevitably find that they've only touched on the same old stuff and left out obscure but important things?  Yeah.  "Japanorama" covers those things, too.  Ross's discussion of anime, for example, doesn't end full-stop at Miyazaki, or even Tezuka.  Nope, he goes as far as the "Gundam" franchise, "Golgo 13," and anime song concerts featuring Ichiro Mizuki.  And this extends to all topics: music, movies, toys, celebrities, everything. This is one of those rare informative shows where, if you're wondering why they haven't done a segment on a certain topic, that segment's likely coming up very soon.
"Japanorama" pulls no punches, though.  Ross is fannish without being fawning, and if he stumbles across something that's exceptionally creepy (such as "air sex" exhibitions or Dollfie birthing ceremonies), he'll say so.  But there's a sort of amused understanding — an "oh, Japan" mentality — even to those things.  It's almost as though he's on "your side" during these pieces.  He acknowledges the weird factor, but takes it all in stride.
The main unfortunate thing about this show is that it's difficult to find through any sort of legitimate means.  There was never a Region 2 DVD release, much less a Region 1.  Should you be able to get your hands on it, it's worth a watch.  If you feel like you don't know much about Japanese entertainment, this might help you warm to it.  And if you're already a fan, you can watch for that warm fuzzy feeling you get when someone with a TV show actually knows what they're doing.
"Japanorama" may not be suitable for people with a low tolerance for mispronounced Japanese — but it seems a bit cruel to call Jonathan Ross out for poor pronunciation.