8 Years Later? Christopher Nolan on The Dark Knight Rises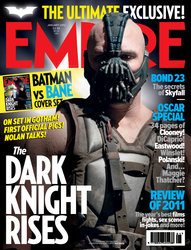 This is unexpected.
In the new issue of Empire, director Christopher Nolan reveals some new stuff about 2012's The Dark Knight Rises. We know it will be his final Batman film but interestingly enough, it takes place 8 years after the last film.
"It's really all about finishing Batman and Bruce Wayne's story. We left him in a very precarious place. Perhaps surprisingly for some people, our story picks up quite a bit later, eight years after The Dark Knight. So he's an older Bruce Wayne; he's not in a great state."
There is also quite a bit about Bane in the magazine. Apart from being "a challenge" Batman hasn't faced before, they discuss (slightly Spoilery) his mask and how the movie will be handling the "venom."According to Lindy Hemming, the costume designer for the film, Bane is "injured early in his story. He's suffering from pain and needs gas to survive. He can't survive the pain without the mask. The pipes from the mask go back along his jawline and feed into the thing at his back, where there are two canisters."
Though that doesn't slow Bane down. It sounds like Bronson star Tom Hardy brought a lot to the role, describing the character as "a terrorist in mentality as well as brutal action."
So overall, an intriguing look at one of the top movies of the next year. More will be available when the magazine hits newsstands. Lucky people will get to see the film's prologue ahead of Mission Impossible: Ghost Protocol in IMAX on December 21, and we'll all get to see the results on July 20, 2012.