Blightyvision: "The Case"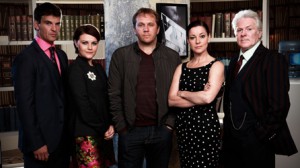 Written and created by David Allison
Directed by Sean Glynn and Paul Murphy
Starring Dean Andrews, Caroline Langrishe and Ruthie Henshall
Twitter is magnificent for self-promotion, and actors know it.  "Mars"/"Ashes" and "Marchlands" alum Dean Andrews knows it for sure.  He pushed his new daytime drama, "The Case," on his own personal Twitter with a sort of aggressive enthusiasm that led me to dig it up by whatever means necessary.  And considering the odd animal the show is, it took some work for an American to lay mitts on it.
Because of reasons (I suppose), "The Case" — a courtroom drama with a decidedly prime time feel to it — was shown at 2:15 PM on BBC One.  The five-episode series had a one-week run, Monday through Friday starting this past Halloween, and was in and out before most Americans even knew what it was.  And it doesn't help that searching "The Case" and "BBC" turns up about six dozen unrelated things.  That said, it is accessible with enough work and equally-driven like-minded viewing buddies.
Barrister Sol Ridley (Tristan Gemmill, previously of "Casualty") has been given the job of representing defendant Tony Powell (Andrews), who has been accused of killing his partner Saskia Stanley (Langrishe).  According to Tony, it was an assisted suicide, but Saskia's ex-husband Neil (Connor McIntyre) is more than happy to watch Tony go down for murder.  The story is told in bits and pieces via both Tony's own rather spotty memories and Neil's high-volume discussions with his and Saskia's children.
Under the surface is the running storyline of junior Julie Prior (Chanel Cresswell), who has been assigned to serve as defense with Ridley, and her attempts to earn the respect of her superiors.  From this springs a rivalry with the catty Valerie (Ruthie Henshall), fueled by Valerie's suspicions about Julie and Sol's more-than-working relationship.
Oh, there's where the "daytime" stuff comes in.
In many respects, "The Case" feels like two completely separate shows that got tangled up in each other, with Julie being the linchpin between them.  And so, to a degree, it almost feels as though I'm reviewing two shows.  The Tony/Saskia plot, I found very intriguing, and actually invested a lot of emotion in.  Julie's girl-fighting with Valerie and illicit relationship behind Sol's wife's back, not so much.  I won't say that the two branches didn't contribute to the story as a whole together, but they felt so detached from each other that it could get mildly alienating.  The saving graces of the subplot tended to be Valerie's reactions to the more upbeat "case of the week" fly-throughs, including a bodybuilder earning himself a noise complaint and a widow trying to get her late husband's money back from a donkey sanctuary.  In the end, though, the Valerie/Julie cat-fighting detracted more than it added.
The main plot, however, was utterly fantastic.  McIntyre makes himself fantastically hateable without becoming a melodrama villain, and Karl Davies (formerly Lyle of "Kingdom" fame) and Michelle Tate as the Stanley kids are real ensemble dark horses who come into their own as the series nears its end.  Andrews shows here again that he excels at playing truly tortured characters.  And while I initially loved his roughhousing as Ray Carling (a character who did turn to deeper emotional scenes in the final series of "Ashes" to great effect), I'm enjoying the roles he's choosing for himself even more now.  This in particular plays to a lot of his strengths, and he truly was fantastic to watch.
I enjoyed "The Case," despite my ambivalence re: the interpersonal relationships in the subplot.  I don't think they genuinely altered my feelings on the show, but they did feel odd, and I was so busy being involved with the interactions of the main characters that being taken away felt jarring.  All in all, I just didn't need the cattiness of the ladies.  There were so many other things that could have been done with those characters, and this just felt really unfortunate.
Would I recommend it?  Yes.  Well, if you can watch a show without huge amounts of sex and violence (this is daytime TV, after all), then yes.  In spite of the subplot's scattered flaws, the show as a whole is a good watch, and the writing strings you along just enough that you know you're being strung along up until the last minute without being entirely sure how.  It was worth the time spent nabbing it, and it may well slip under the radar outside the UK.  If you stumble across it, do yourself a favor and give it a go.
"The Case" contains large amounts of emotional manipulation targeted at couples, middling amounts of workplace girl-fighting, and just enough discussion on how to administer injections to make this writer feel a bit queasy.