TV Alert: Ridley Scott- 'Prophets of Science Fiction'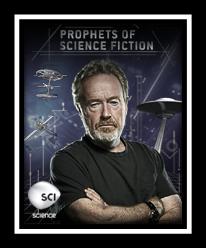 Usually, I don't pay much attention to my inbox – I look for names I recognize, and pretty much ignore the rest; writing for a website has put my email on many press release lists, and while many of the releases I get spark my interest, I usually decline to look further into them, either because I'm a student and have a part time job, so my time is limited, or because this website already has someone for that (comics, for examples, or movies).
Sometimes, however, I get nice little surprises in my inbox, such as an invite to view the first episode of a new TV series early.
This series is called "Ridley Scott- 'Prophets of Science Fiction'" and there is no way I would not want to watch this.
"Each episode of PROPHETS OF SCIENCE FICTION focuses on a visionary sci-fi figure whose spark of imagination changed our reality.  The premiere episode explores the celebrated author, Mary Shelley.  Widely credited with creating the science fiction genre, Shelley's seminal work, Frankenstein, provided a springboard for the future study and development of organ transplantation, cardiac defibrillation, electric batteries, and many other modern advances."
The episode is structured much like countless specials on Nostradamus, or da Vinci, etc… There are re-enactments and interviews. The show delves into the background of the writers, what was going on when they were writing, and what is currently going on in SCIENCE that that author for lack of a better word, "foresaw."
I quite enjoyed this episode, and looking forward to the next ones. It'll be nice to have something else to watch with my parents now that Doctor Who's over until Christmas.
I especially can't wait for the Philip K. Dick episode on November 23rd.
And for you crazy getgluers out there, Get your Glue on?
Prophets of Science Fiction premieres November 9, 2011 at 10pm on the Science Channel, and will air Wednesdays at 10pm.
Let's face it, you already know by the title if you're going to watch it or not.