Lincoln's Link of the Day: New Book, Science Ink, shows off the nerdiest tattoos you've ever seen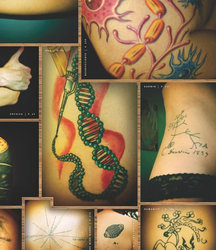 I've become a tattoo snob.
When I got my first piece last year, a half-sleeve based on John Tenniel's original Alice illustrations, I immediately started judging those around me. It wasn't a conscious choice, but suddenly I was noticing bad linework and faded color where before I would have just seen a tattoo. I came to realize that finding good tattoos is a lot harder than you'd think. And smart tattoos? They tend to be lost in a sea of Tweety birds and mermaids.
Carl Zimmer, however, has tracked down a lot of them for his new book. Science Ink: Tattoos of the Science Obsessed is a brilliant tome collecting pictures of people's beautiful skin art in which they flaunt their love for science. It's a great nerdy coffee table book and kind of amazing to look through. You'd think there would be only a few ways in which someone could show their love of DNA, or display a tree of life, or express a fascination with mathematics. But this book proves that like anything else, science art is as varied, and as beautiful as any other thing out there.