Blightyvision: "The Devil's Whore"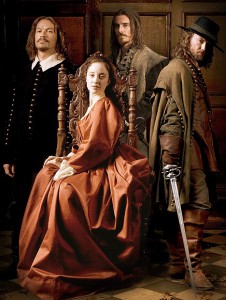 Created by Peter Flannery and Martine Brant
Directed by Mark Munden
Starring Andrea Riseborough, Dominic West, Tom Goodman-Hill, and John Simm
I was of two minds when I had this show presented to me, and they were two very vastly different minds.  On the one hand, I read when exactly the story took place and went "Oh, God, not more mess about the English Civil War."  You see, I'm about as tired of English Civil War period pieces as I am American Civil War ones.  Not only that, but it falls into that little sub-genre I'm also well over — the "Let's foster familiarity with our own past by showing just how freaking debauched we used to be" story.  This is most certainly not something that other people get annoyed with, but as one who digs some historical dramas, I get faced with it a lot.
On the other hand, John Simm is in it.
The titular character is 17-year-old Angelica Fanshawe (Riseborough), a fictional construct thrown in among real historical figures to serve as an audience association character.  (The first thing we're meant to associate with is her associating with Satan at an early age, but all right.)  Abandoned at an early age by her mother, who chose to devote her life to Catholicism, Angelica comes under the care of Charles I, marries her cousin Harry … and things basically go downhill from there.  The four-episode series is a mildly confusing mix of Angelica's dealings with historical figures (one of whom falls madly in love with her) and a few history lessons thrown together with anachronisms that fall anywhere between barely noticeable and just odd.
I flatter myself that my attention span is fairly impressive, even and especially when it comes to war stories of varying degrees.  But when it came to "The Devil's Whore," more often than not I found myself awash in waves of interchangeable characters and some very very poor color design (i.e. brown with shades of brown).  Occasional scenes held my interest, but even now I couldn't quite tell you what they were.
The one person who stood out was the aforementioned Simm, playing real-life historical figure Sexby (a name that is God's gifts to fangirls posting LiveJournal picspam).  In previous reviews I've mentioned that Simm plays the bewildered Everyman fairy consistently, but this is another step outside that comfort zone.  He's a much more self-assured, controlling, and violent character, and while he didn't make me love the show, he was entertaining to watch.
But your mileage may vary.  If you're a fan of things from this time period, you may well find "The Devil's Whore" to be fascinating and engaging and plenty of other sorts of things ending in -ing.  For myself, it's not an area of interest, and there was nothing in particular that set it apart from any other show set in the same time period to make it an area of interest.  There's some sex, though, so I suppose that could be fun for some of you.
Talk amongst yourselves: "The Devil's Whore" is about neither devils nor whores.  Also, it's not available in Region 1 at all.