Blightyvision: "Doctor Who" Series 11.2 (Spoiler-free)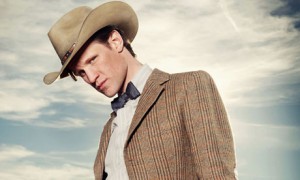 Written by Steven Moffat, Neil Gaiman, Matthew Graham, et al.
Starring Matt Smith, Karen Gillan, and Arthur Darvill
At the mid-series hiatus, I did a quick run-down of the most recent series of Doctor Who so far (note the new numbering system, Doctornumber-decimal-Doctornumberseries, which I'm finding handier and handier as time goes on).  When it comes to nuWho, though, you can't really get a good sense of the value of a series until it's concluded, as every year tends to be one long-running story.
With this year's, it was extra difficult, as the first episode basically began with head writer Steven Moffat painting himself (and the Doctor) into a pretty prominent corner — a corner that he would keep reminding us of at least once an episode.  With this year's finale being pretty inescapable, and pretty weighty, a good portion of the Whovians' week-to-week viewing was searching for some way — any way — that The Moff was going to get himself out of what he'd stated in that first episode.
The other major plot point of the series comes in the form of River Song (Alex Kingston), whose storyline has been set up meticulously since the Doctor/Donna run and who finally … yes, finally … explains herself.  Kingston's performance is wild and varied, as we once again see her life played out of order against the backdrop of the TARDIS crew's fairly straightforward timeline.  River isn't an easy role to pull off, partly because of that and partly because the fandom is so mixed on her.  But Kingston manages to hang on through playing a character who evolves along a straight path, while still playing that path out of order.
If that makes sense.
With the Smith/Gillan/Darvill team now in their second year together, their performances feel a great deal more solid.  Darvill as Rory is a particular standout; yes, he became the Empowered Whovian Husband™ last year, but his performance goes above and beyond that, both by way of sheer badassery and some properly high-level acting.  (His acting in the final major scene of "The Girl Who Waited" is gut-wrenching.)
While the jewel in the crown of the first half was Neil Gaiman's "The Doctor's Wife," which admittedly felt weird throwing your Big Draw out at episode 4 of 13, the second half had its share of winners.  "The God Complex" by "Being Human" writer Toby Whithouse is a good mix of creep factor and his expected glib dialogue, and the Mark Gatiss-penned "Night Terrors" has added to my list of "Things Doctor Who Has Made Me Afraid Of" lifts, ugly carpets, dollhouses, garbage bags, my room, closets, and children who blink a lot.
And now, it's time to address the complaints that have been pouring out over my personal Facebook.  Let's take these in some sort of orderly fashion.
1. Matt Smith is a terrible Doctor. Smith has been getting Davison levels of hate in his performance, and for the same reason: he's not the guy who came before him.  (People will deny that up and down the street and give all sorts of alternative reasons, but it's what it comes down to.)  If anything, I consider him one of the better Doctors we've had.  He's excellent with children, alternately frightening and reassuring, plays a good range of emotions, and — oddly enough for the youngest Doctor we've had — he's so old. Somehow he manages to convey an agelessness so convincing that when I see him in an interview, I can't believe how much younger he seems.
2. This series had too much horror. At its core, Doctor Who is a show that's meant to scare kids (and "Night Terrors" has a cheeky little nod to parents who might think the show is too scary for their youngins).  The second half was indeed a lot darker and creepier than the pre-hiatus stuff, but the arrangement of the episodes is a proper lead-up to the series finale — which was so screwy that I went back and checked that the antihistamines I'd just taken weren't expired.
3. River Song is a Mary-Sue. Just shut up.
4. They're cocking about with canon too much. One of the things I like about Moff's throwaway lines is that he gives silly explanations for things fans took for granted — the TARDIS grinding noise is the handbrake being left on, for example.  But I don't think that's what people mean.  There are certain things Whovians hold very sacred about Who canon, and Moff has no shame in dancing right around those lines.  And no shame in messing with his viewers horribly.
Unfortunately, we Whovians (as I've mentioned before) are some of the most entitled-feeling creatures on the planet, and have been since relatively early in the show's run.  Negative fan reaction for Doctor Who is always a bit difficult to quantify, because the ones who hate a series or actor or episode hate it hard.
For my part, while I will admit to moments of skepticism at certain points, the finale made me believe.  And, as I suspected, it was a fairly simple solution to a fairly convoluted first episode shocker, and one I missed completely thanks to some red herrings I apparently valued very highly.
That said, the finale has not put the show back on solid ground.  The last two minutes (yeah, it cuts that close) set up what the 2012 run will likely be like … and, from the sound of it, a good chunk of 2013's 50th anniversary festivities.  It seems like it's going to be a challenge for the writers, the actors, and all involved.  But I think they've got a handle on this.
Recent episodes of Doctor Who are available to watch on Netflix, and to buy and download from Amazon.  The Doctor will also be returning this December to make us all scared of Christmas again.
Posted on October 6, 2011 at 01:00 by
Kara Dennison
·
Permalink
In:
Columns
,
Television: British and Canadian
· Tagged with:
alex kingston
,
Amy Pond
,
Arthur Darvill
,
Doctor Who
,
Karen Gillan
,
matt smith
,
mindscrew
,
mindscrewdriver
,
River Song
,
Roricus Pondicus
,
the moff